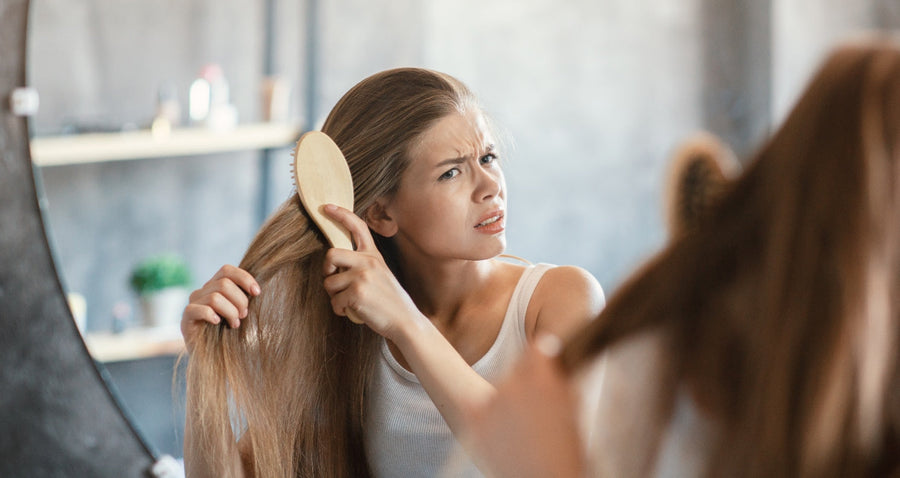 Everything You Need to Know About Dry Hair
Dry hair is one of the most common complaints when it comes to hair health. When trying to assess how healthy our hair actually is, we tend to go by how it looks and feels. When hair is starting to lose its luster or feel brittle, most people assume it's due to a lack of moisture. But is the cause a lack of hydration, or do you need an extra dose of protein?
It can be difficult to assess where our hair's balance of nutrients is actually off. However, once you've correctly identified the issue, building a routine to begin to restore your hair's optimal moisture levels is a simple matter of using the right combination of products, consistently over time.
How to Tell if You Have Dry Hair
The first step in identifying whether or not your hair is healthy, is to look at it. Healthy hair is shiny, with vibrant color and a natural "bounce" to it. Even those with fine or thin hair will notice an easy movement and natural shape—or body— to their hair, if it is healthy. If your hair is dull, limp, and/or frizzy, it's highly likely that you are in need of moisture.
The second step is to touch it. Healthy hair feels smooth, silk, and resilient—regardless of its natural texture. If your hair feels crunchy or straw-like, it's probably thirsty. However, if your hair feels brittle—like it could easily snap or crumble—the culprit here is a lack of protein, not moisture. It's easy to confuse the two, which is why it's important to take your time to feel things out.
When hair is below the levels of optimal health, it's because it's missing something. Moisture molecules are one of the first to be "lost" when hair is damaged, which occurs when the cuticle is lifted. This could be the result of a color treatment or other chemical process; however, damage also occurs with typically everyday styling and improper care routines. It is almost impossible to avoid damaging your hair.
The good news is that it is relatively easy to hydrate hair. The lifted cuticle that occurs as a result of damage, also lets new moisture molecules in to penetrate the hair shaft and restore hair's integrity. The key is to use the right products to deliver those molecules, along with other vital hair nutrients.
Using The Right Ingredients
When it comes to moisture, the reigning MVP is hyaluronic acid. This incredible super-hydrator is a number one ingredient in high-end skin creams and treatments. Its anti-aging properties translate directly to hair, infusing the hair shaft with moisture. The hyaluronic acid found in our moisture plus products has a uniquely low molecular weight, which allows it to penetrate the hair shaft more effectively.
Fruit extracts contain vital nutrients and precious antioxidants, which increase shine and help to maintain scalp health.  They also have naturally emollient properties that also serve to protect the hair. The milk_shake moisture plus line contains organic papaya, strawberry, and goji berry extracts, which combine to protect and further moisturize hair. All of our moisture plus products also contain quinoa and milk proteins for strength and resilience, and integrity 41—our proprietary blend that protects color and increases shine.
The Perfect Dry Hair Care Routine
Dry hair needs consistent care to be restored back to full health. Using a shampoo and conditioner combination designed to infuse hair with moisture is a great first step. By adding moisture molecules in each time your wash, you are helping to restore the natural moisture balance in your hair.
If your hair is very dry and/or damaged, a leave-in conditioner like milk_shake moisture plus whipped cream can help to keep hair hydrated and protected all day. Simply apply a golf ball sized amount to damp hair, comb through to distribute and continue with your normal styling routine.
Finally, using a deeply moisturizing treatment, at least once per week can dramatically increase moisture levels and impart serious shine. milk_shake moisture plus lotion comes in single dose vials designed to keep hair soft, shiny, and manageable.
Having dry hair doesn't have to be a chronic condition. By finding the right products, with the right ingredients for your hair and keeping up a consistent routine, you can restore the moisture balance. For vibrant, soft hair that shines with all its strength.