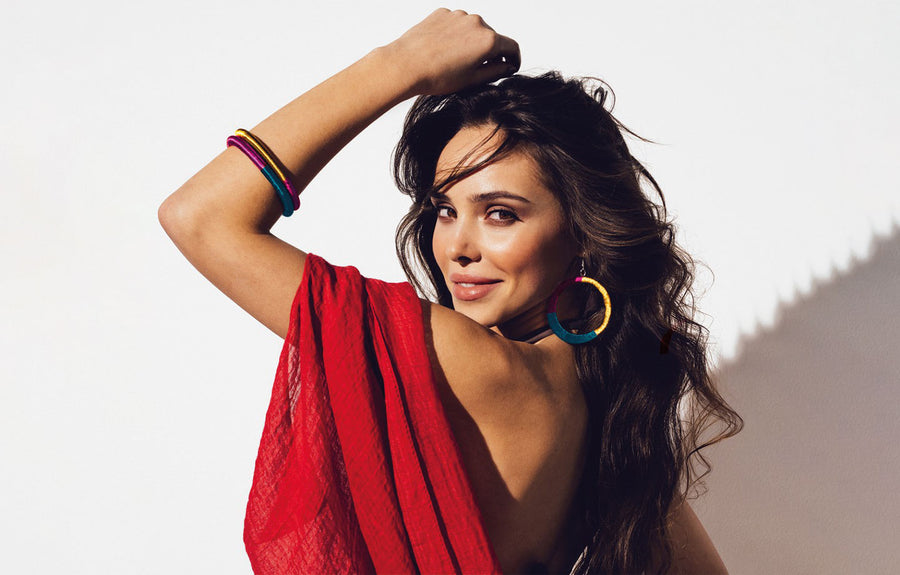 Milkshake Sun & More: Your Summer Hair Protection
Sun protection isn't just for skin: hair needs protection from the sun, too! milkshake sun & more gives you the ultimate essentials for your summer beauty case: UV protection, hydration, and nourishment, for perfect hair. WHAT HAPPENS TO HAIR UNDER THE SUN? During summer, pollution, wind, chemicals, hairdryers and brushing can all potentially damage the hair, as well as the sun, salt, and chlorine, creating damage in 4 ways:

1. alteration of proteins
The breaking-down and localized loss and deterioration of keratin, and the increase of the distance between cuticles, both increase the porosity and decrease smoothness and shine of the hair. Hair becomes rough, frizzy and matt, and tends to knot easily, as well as forming split ends.
2. deterioration of pigments
Melanin protects the hair from free radicals from the sun, but an excess of exposure causes photodegradation, lightening, and fading of hair color, whether it be natural or cosmetic.
3. reduction of water content
Hair that is exposed to the sun has less water content and can absorb less water from the environment, leaving hair dry and fragile.
4. lipid oxidation
Oxidative stress on the lipids weakens the hair shaft and the hair's flexibility. Hair appears fragile, hard and dry, and difficult to manage. THE GOOD NEWS IS ALL THIS CAN BE AVOIDED. With the right cosmetic treatments, hair damage can be prevented and hair can be protected from the sun!
milkshake sun & more all over shampoo
hair & body moisturizing shampoo
A 'two-in-one' cleansing and soothing formula for hair and body, ideal after swimming in the sea or pool, or year-round to leave skin soft and protect hair from the lightening and dehydrating effects of the sun. Ideal for dynamic, practical people. Enriched with a UV filter, vitamin E and selected natural ingredients, for invigorated, healthy skin and hair.
Contains:
muru muru butter, quinoa proteins, hibiscus oil, organic passion fruit oil, organic argan oil, vitamin E, UV lter.
Use:
distribute over damp hair and body, lather and rinse. Repeat if necessary. For best results, follow with the Beauty Mask to optimize the replenishing effects on the hair.
milkshake sun & more beauty mask
intensive nourishing hair mask
Intensive nourishing and conditioning mask for hair to be used after shampooing to soothe the damaging effects of sun, salt, wind, and chlorine. Its deep action, created through the synergy of conditioning ingredients with natural extracts, a UV filter, and vitamin E, leaves hair soft, radiant and manageable.
Contains:
muru muru butter, quinoa proteins, hibiscus oil, organic passion fruit oil, organic argan oil, sweet almond oil, rice oil, vitamin E, UV lters.
Use:
apply to clean damp hair. Leave in for 2-3 minutes and rinse.
milkshake sun & more incredible milk
leave in treatment for all hair types
A spray mask with 12 cosmetic bene ts in a 'sun edition', with UV filters, to give all the necessary elements to protect hair during the summer. No-rinse formula.
1.
repairs all hair types
2.
tames frizz
3.
prevents split ends
4.
protects from heat
5.
gives manageability
6.
detangles
7.
gives incredible shine
8.
gives body and volume
9.
enhances the use of at or curling irons
10.
protects and maintains color
11.
protects from UV rays
12.
smoothens the cuticle.
Contains: 
muru muru butter, quinoa proteins, milk proteins, vitamin E, UV filters, and blackberry, mango, papaya and raspberry extracts.
Use:
apply to damp hair, distribute and style.