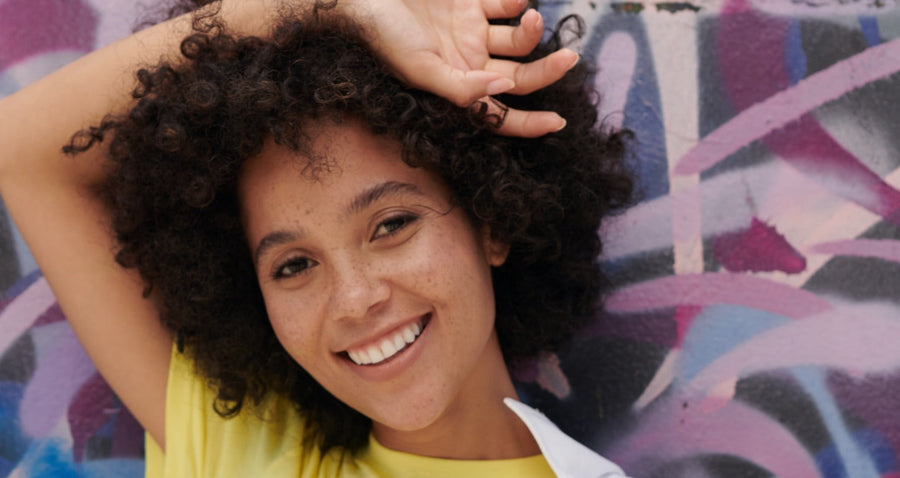 Curl Talk: An Intro to Curly Hair care
Having curly hair is a lot like having a toddler. It's picky, temperamental, gets everywhere, and is always thirsty. But if you take good care of it, it grows into something wonderful. Most people picture curly hair as soft cascading ringlets, but there are actually many different styles of curly hair, each with their own unique needs and attributes.
Curly hair is divided into 3 types— Type 2, Type 3, and Type 4 (Type 1 is straight hair, in case you were wondering). Type 2 is considered wavy, Type 3 is curly, and Type 4 is coily. Each of these main categories also have several sub classifications that specifically refer to the diameter of the curl, these are lettered from A-C.
We are going to break down each of the different curl types, their respective subcategories, and the typical challenges and best styling products for each. Consider this your intro course to curly hair care.
Wavy hair
Type 2a: You have a loose wave, that generally starts below the ears. May be straight in some places.
Type 2b: Your hair may be mostly straight at the roots, with a defined "S" shaped curl pattern starting at the mid lengths.
Type 2c: your waves are likely more defined, and start higher up, towards the roots. You may have a mixture of curls and ringlets, with your waves.
 While each type of wavy hair has its own specific challenges, they share a tendency to be weighed down by product. Using lightweight products like lifestyling shaping styling foam can help to keep your waves bouncy. Follow up your styling foam with lifestyling curl shaper to help encourage your hair's natural texture while taming frizz and increasing volume.
Curly hair
Type 3a: You likely have loose curls, with a large diameter (similar to a piece of sidewalk chalk)
Type 3b: Your hair looks like classic ringlets, with a defined "s" shape and a mid-sized diameter (about the size of a marker).
Type 3c: Your curls are likely very dense, and tightly coiled with a small diameter (the size of a pencil)
Type 3s don't typically have much of a volume issue, but they do typically have more frizz to contend with. This has a lot to do with the fact that curly hair has a harder time retaining moisture. Using a leave-in as a styling base can work wonders for taming frizz. The combination of incredible milk leave-in and curl perfectionist cream is a perfect one-two punch for soft, well-defined curls with minimal frizz.
Coily Hair
Type 4a: Your curls are likely very dense, and springy. Your hair is more than likely on the finer side.
Type 4b: Your curls are tightly coiled and likely do not follow the same "s" shaped pattern of the other curl type. If you were to lay one of your curls out, it would probably look more like a "z".
Type 4c: Your curls are less defined than a 4b but have a similar shape and circumference.
Those blessed with coily hair know that it is typically the thirstiest and most fragile of all the curl types. Coily hair is prone to breakage and needs to be well moisturized and handled very carefully. Using the muru muru mask 1-2 times per week is a great way to hydrate an infuse more strength into oily hair. As far as styling goes, the key here is to minimize build. You will want to use moisturizing products like leave-in conditioners, creams, and oils (also known as the L.O.C. method) to promote softness and shine, while defining your curl pattern.
No matter what curl type best fits your hair it's important to keep in mind that curly hair care is a journey. There is no magic combination of products that is guaranteed to give you healthy, perfect curls.
Instead, it's important that you take the time to really get to know your hair. By assessing your hair's unique needs, you can better manage its overall health. From there it's just matter of finding a stylist who is experienced with curly hair to give you a fantastic cut and a lot of trial and error to find the right product combination for your curly hair care routine.
It may seem like a lot of work, but the results are worth it. Few things are more beautiful than a healthy crown of curls.