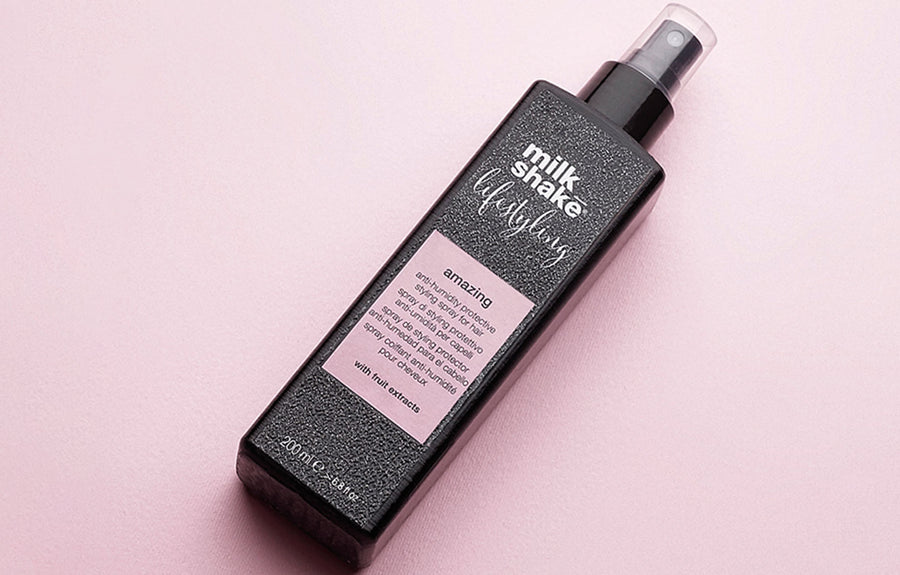 Everything you need to know about lifestyling Amazing
Armed with your nozzle blow dryer, and wielding your trusty round brush, you've spent the last 30 minutes achieving the perfect, smooth-as-glass blowout. You stride confidently out of the house like the master hair craftsperson that you obviously are. An hour later you glance in a mirror to catch a glimpse of your handiwork, only to see a ring of fuzz rising from your previously flawless mane. Sound familiar? Frizz is one of the biggest culprits when it comes to causing a bad hair day. Even if you take extra special care of your strands, it's likely that you'll experience frizzy hair at one time or another. It's perfectly common, perfectly natural, and seriously annoying. While keeping hair moisturized and healthy goes a long way to prevent frizzy hair, environmental factors that contribute to frizz —like moisture levels in the air—are often outside of our control. milk_shake lifestyling Amazing is here to tackle just that. This revolutionary pre-styler is here to make your humidity-induced hair nightmares a thing of the past. 
What Is It?
milk_shake lifestyling Amazing
is a pre-styling spray. This lightweight product is heat-activated, meaning that you can rest a little easier about using the warm setting on your blow dryer. Lifestyling Amazing protects hair from heat damage and prevents frizz by coating each strand with special polymers that encase the hair from root to end. This aids in moisture-retention, prevents heat damage and help to seal in color, and gives a mirror-like shine. The unique formula is ultra-lightweight and designed to leave absolutely no residue. Don't let the weightless formula fool you,
lifestyling Amazing
is a powerful pre-styling tool, the frizz-fighting effects of which can last up to two shampoos. Another unique characteristic of this product is the fact that it is entirely fragrance free. This ensures that it will not conflict with any other products that you choose to use as part of your everyday styling routine.

Who is it for?
Literally anyone that has hair and uses heat to style it can benefit from this product. This includes those who blow-dry and straighten hair using hot tools. All hair types and texture can benefit from
lifestyling Amazing,
however, if you are more prone to frizz, you will see more dramatic benefits.
How do I Use it?
Step 1.
Divide clean, damp hair into sections in order to ensure an even application.
Step 2
. Spray
lifestyling Amazing
over each section and distribute evenly with a wide toothed comb.
*NOTE:
For best results, do not use any other products
before
applying
lifestyling Amazing
.
Step 3.
After the application, style hair by applying tension with a round brush. The effects should last through 1-2 shampoos. No matter what type or texture your hair, how healthy it is or what climate you live in, no one
has
to live with frizzy hair. Taking good care of your hair and using the right products is essential to having a beautiful, manageable style. However, incorporating
milk_shake lifestyling Amazing
pre-styling spray in your daily styling routine is arguably the easiest way to achieve more good hair days,
now
—no extra effort required.