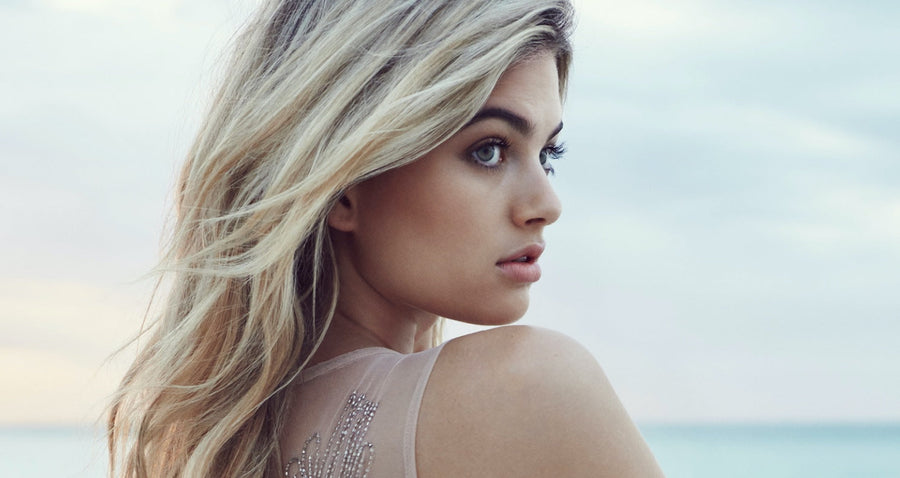 Brassy Blonde Hair: Why it Happens & How to Fix it
If you've ever lightened your hair past a certain level, it's likely you've encountered the "brass effect". In fact, unwanted yellow, coppery or orange tones in lightened hair is one of the most common issues that sends clients crying to their colorists. While most of us have experienced brassy hair at one time or another, most of us don't know what causes those pesky yellow, coppery tones to appear or how to get rid of them. While a booking an appointment at the salon is the best way to counteract the brass effect, there are some measures that you can take at home to keep it from happening.
How to Fix and Prevent Brassy Hair
It should be noted that the only way to truly fix brassy blonde hair is to make an appointment with your professional colorist for a glazing/toning service. For best results, make those appointments every 4-6 weeks. The fact is, color fades and everyone's natural hair color has brassy undertones to some degree. As your hair color begins to fade, the brass will eventually start to show through. There are a few tips and tricks that you can try at home, however, to minimize and prevent brassy hair. If you can't get to the salon right away (or you're between appointments) you can try a temporary at-home color like milk_shake silver shine whipped cream (for a "cool blonde" color) or milk_shake colour whipped cream light grey (for a subtle silver shine in your light blonde). The ash tones in these at-home colors should neutralize brassy roots, at least until your next shampoo. Speaking of shampoo, using a purple tinted color-depositing products—like milk_shake silver shine shampoo & conditioner — can counteract the brass effect in very light to platinum blonde hair. This can be used when unwanted yellow tones first appear, and also once a week between color appointments as a preventative measure. For maintaining soft, neutral blondes, try milk_shake silver shine light shampoo. This shampoo contains 50% less pigment than our original formula, which translates into a softer cooling effect. Please note, this formula is best suited for light, neutral, and beige blondes. The rest of the week, be sure to use a shampoo and conditioner specifically formulated for color maintenance. Follow up with milk_shake silver shine whipped cream during styling to maximize the toning effects. If you are committed to keeping your cool-toned blonde and want it brass-free, you may want to take a good long look at your shower. Shower heads are an often overlooked contributor to brassy hair. Mineral deposits in your water can affect hair color, and chlorine has been known to decrease moisture, which makes your color fade faster. A simple solution is to invest in a filter for your shower head. This will keep the impurities out and help to keep your color fresher for longer. 
milk_shake Silver Shine Shampoo (original formula ) Helps to maintain a "very cool blond" color for light, very light or platinum blond hair. Silver Shine Light Shampoo Helps to maintain a "soft natural/neutral blond" color with less pigment than the original formula. Silver Shine Conditioner Pair with Silver Shine Shampoo in Original or Light formula to maintain a "soft natural/neutral blond" color. Silver Shine Whipped Cream Leave in conditioner that controls unwanted yellow tones for a "cool blond" color result   
What Brassy Hair Is
Believe it or not, brassy hair is perfectly natural. No matter what level your natural color is, you will have either red/orange or yellow undertones to your hair. Typically, brunette to dark blondes are on the more coppery end of the brass spectrum while lighter blondes lean more towards yellow. While you may not like seeing a whole lot of your natural color undertones, they do contribute to creating different dimensions of warmth to your hair color. Learning more about your natural undertones helps your colorist craft a color that works perfectly with your skin tone and eye color. Where the trouble comes in is when that color starts to fade.
How Brassy Hair Happens
When your hair is lightened, the naturally occurring pigment (melanin) is diluted. If the lightening process does not remove all of the melanin in your hair (and it likely won't) the diluted melanin shows up as an orange-y coppery hue. Typically, after lightening, a colorist will apply a toner or glaze, this "neutralizes" those coppery tones and combats the brass effect. The only time you should have an issue at this point, is if you are asking your colorist to lift very dark hair to a shade that is much lighter. This typically cannot be done in one appointment, because that much processing is likely to severely damage your hair. In order to safely lighten dark hair dramatically, you will have to pass through multiple levels of brassiness. Most people run into the brass effect a couple of weeks after their color change. At this point, the toner is likely fading and your hairs natural undertones are starting to shine through. How quickly a toner or glaze fades is based on a few different factors, but your hair's
porosity level
, and the products that you use to maintain your color definitely play a part. Maintaining hair health is key when it comes to combatting brass. The healthier your hair is, the better it holds onto color, and less fading means less brass. Keeping your hair at
optimum protein and moisture levels
will help to reduce color fading. Overall, a routine that includes products specifically geared towards improving and maintaining your hair's health will be your most effective weapon in the fight against brass.