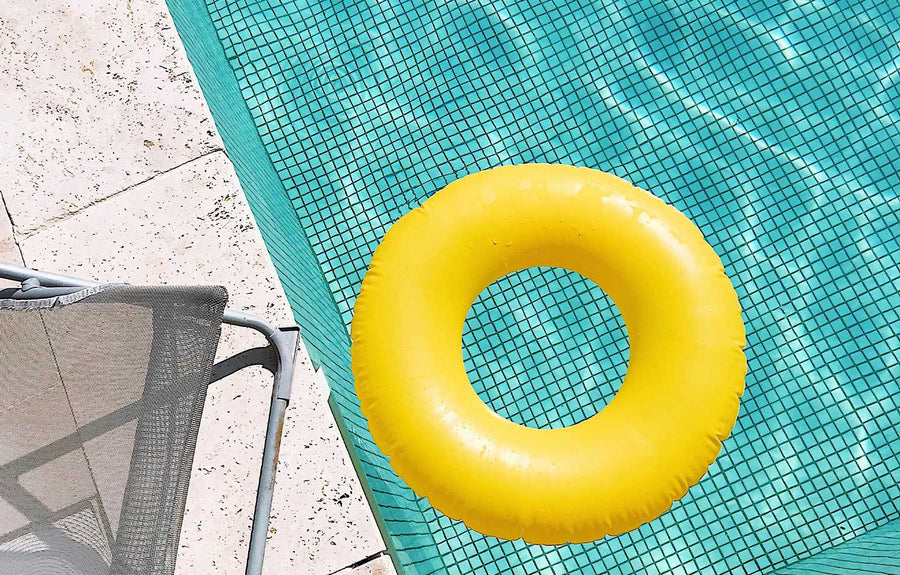 How to protect your blonde hair from turning green in the pool
Does blonde hair really turn green in the pool? Will saltwater dry out your hair? Are UV rays responsible for hair color fading? These are some of the most-asked summer hair care questions that salon pros around the country tackle as soon as the temperatures start to rise. 
There are three things in life that you can absolutely count on: death, taxes, and an irresistible urge to go blonde in the summertime. One of the biggest fears when considering going lighter for summer is how your color will stand up to all of your fun summer activities. Kicking it poolside and having a beach day are great for our mental health, not so much for the health of our hair. Fortunately, there are ways to prevent and even reverse damage to your new summer blonde. 
Does blonde hair turn green in the pool? 
Yes and no. Contrary to popular belief, chlorine is not the culprit when it comes to blonde hair turning greenish after a swim. Chlorine actually works to lighten hair, which sets the stage for the real menace to step in: copper. Copper is a common ingredient in algaecide, which is used to control algae growth in swimming pools. When copper oxidizes (aka, is exposed to the air) it turns from a shiny orange hue to a dull green. While chlorine may not be responsible for turning your blonde hair green, it can cause hair color to fade more quickly and lose its sheen. Highly porous hair is especially susceptible to losing moisture and shine, and lightening your hair increases its porosity. 
How to treat it: 
If your blonde hair has already started to turn green due to copper exposure, see your hair colorist. There are treatments that can be done to remove metal deposits; however, they are best handled by a professional. Remember that hair that has been chemically lightened is more fragile and removing any additional additives can cause further damage.  
How to prevent it: 
The single best thing that you can do for your hair after swimming is to use a deep cleansing shampoo. milk_shake deep cleansing shampoo gently removes product build-up and chlorine from the hair. Our formula is SLES-free, to gently remove styling product residue and chlorine from hair. Our deep cleansing shampoo also contains fruit and honey extracts and milk proteins, to cleanse hair deeply but gently, maintaining its moisture balance. 
Product Rx After a Day at the Pool: 
Cleanse with Deep Cleansing Shampoo 

 

Moisturize with Sun & More Beauty Mask

 

Protect with Sun & More Incredible milk

 
Will going to the beach ruin my hair? 
The combination of sun and salt is like a one-two punch to your hair's hydration. Swimming in the ocean can quickly lead to dry, crunchy hair if you don't care for it properly afterwards. Believe it or not, the salt in ocean water attracts more water to your hair, forming salt crystals. These salt crystals give your hair extra body (think natural, beachy waves) however, they also pull moisture away. This is what leads to that dry, brittle feeling. This goes double for chemically treated hair.  
Product Rx After a Day at the beach: 
Cleanse with Sun & More All Over Shampoo

 

Hydrate with Sun & More Beauty Mask

 

Protect with Sun & More Incredible milk

 
*For added hydration 1 X week use Moisture Plus Lotion to alleviate any residual dryness.