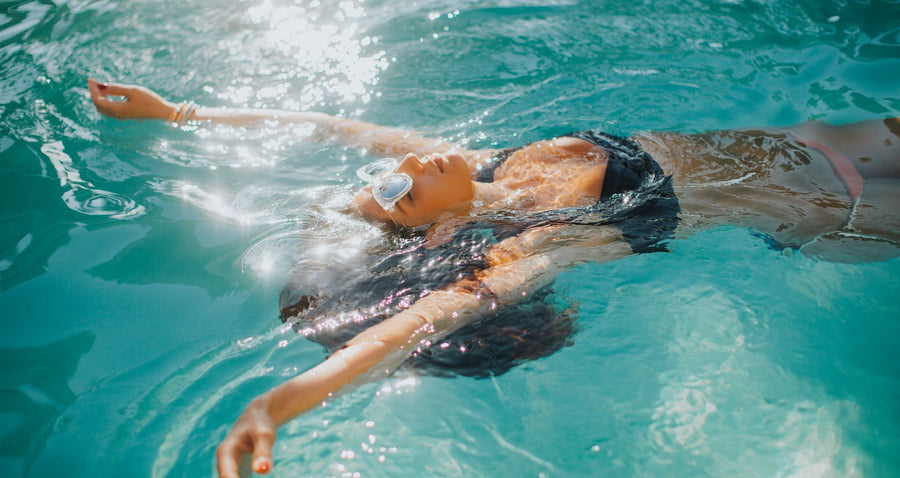 Healing Hair Damage from a Summer of Fun
There are plenty of reasons to look forward to summertime. The days are filled with backyard barbecues, pool parties, beach outings, and vacations, what's not to love? Well, while you are out having fun in the sun, your hair is payingthe price.
Humidity, UV rays, and chlorine are just some of the worst offenders when it comes to summer hair damage. Fortunately, there are ways to repair the damage and get your hair ready for a fall transformation.
Protect Your Hair from Humidity
While humidity is great for playing in the pool, it doesn't do our hair any favors. As a matter of fact, the number one hair-related complaint as the mercury rises has to do with an increase in frizz. High levels of moisture in the air—aka humidity—are immediately absorbed by dry and damaged hair. This causes the shingle-like structures that make up the hair shaft to lift, giving your hair that trademark fuzzy appearance.
So how can you protect against frizz? Moisturize, moisturize, moisturize. Start with a deeply hydrating shower routine and be sure to apply a few drops of argan oil before leaving the house. This nourishing oil can be rubbed between the palms and applied from mid-length to ends, to form a protective barrier around the hair.
Protect Your Hair from UV Rays
Just like skin, your hair is vulnerable to damage from the sun. UV rays can break down color molecules, resulting in rapid fading. Your best bet to protect against sun damage is to keep hair covered, either with hats or scarves. For days when you would rather go bare headed, applying a restorative after-care product can do wonders. milk_shake integrity intensive treatment is an intensive conditioner that seals the hair cuticle and provides detangling, softness and shine while preserving hair color integrity with organic muru muru butter. 
Repairing Water Hair Damage
Whether you are kicking it pool or surfside, both types of water cause a LOT of damage. The chlorine and other chemicals found in pool water can affect your color and are incredibly drying. And you can probably guess that the high levels of salt in ocean water can strip your hair of moisture as well. After only a few dips, you may start to notice that your hair feels more brittle than usual.
A deep cleansing shampoo can help to keep your hair and scalp healthy by clearing out any buildup from chemicals and salt. milk_shake deep cleansing shampoo cleans deeply but also gently by incorporating honey and milk proteins. This ensures that hair is protected during the cleansing process.
There's no reason you can't fully enjoy your time in the sun and be ready for your major fall hair transformation. By adopting a thorough care and repair routine, you are taking the necessary steps to protect and prepare your hair, no matter what the weather.