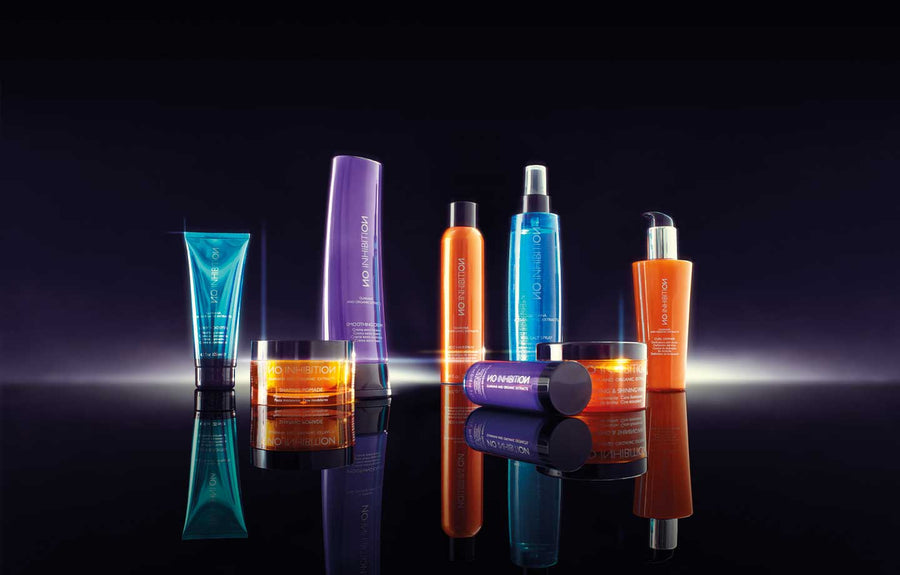 New styling product line No Inhibition
z.one concept™ launches sophisticated and elegant styling product line NO INHIBITION.
Products contain patented organic ingredients that protect hair during and after every styling phase.
z.one concept USA introduces NO INHIBITION, a sophisticated and elegant hair styling line that takes the consumer on a journey into an elite world made of contrasts, colors and shapes, to create, define and achieve perfection. Sophisticated packaging attracts attention; organic ingredients protect the hair and elegant fragrance unfolds over time. These essential traits pitch this line directly to the Olympus of styling, where luxury is intended as a right for everybody.
INSPIRATION
No Inhibition has been inspired by very important personalities in the history of cinema, style, transgression and good taste: men and women whose image will forever survive in the universal culture.
BRIGITTE BARDOT: sexy, glamorous, perfect. VINCENT CASSEL: rough and sharp. JAMES DEAN: handsome and rebellious. IMAN: the goddess. MADONNA: unrestrained, provocative, eclectic. MONICA BELLUCCI: the beauty made in Italy.
APPEARANCE
Besides the personalities who give a soul to the 13 products, the NO INHIBITION line is also "dressed up" with a classy and elegant packaging. Products are displayed on black background and brought to life by three guide colors: orange, purple and anthracite. This color combination elevates the pack into a more luxurious and exclusive world where the three shades symbolize destination, path to creativeness, and refined design.
ECO-SENSITIVENESS
Organic ingredients that create a combination of an ethical commitment towards the environment and the sensitivity of the consumer, along with ingredients that respect the source of origin as much as possible. The styling technological formulas contain patented organic elements and ingredients that protect the hair structure during and after every styling phase. The unique characteristics of the guarana extract refreshes and invigorates the hair while hydrating and strengthening it with every application.
FRAGRANCE
No Inhibition is characterized by an elegant scent having three sets of notes which unfold over time. Immediate impression of the head note containing mandarin, grapefruit and peppermint leads into a deeper heart note of rose, cinnamon and spices. Base note composed of leather, patchouli, sweet woods and ambergris gradually appears at the final stage.
NO INHIBITION is set to be a success on the market as an elegant and sophisticated, yet bold, provocative and gracefully uninhibited line.