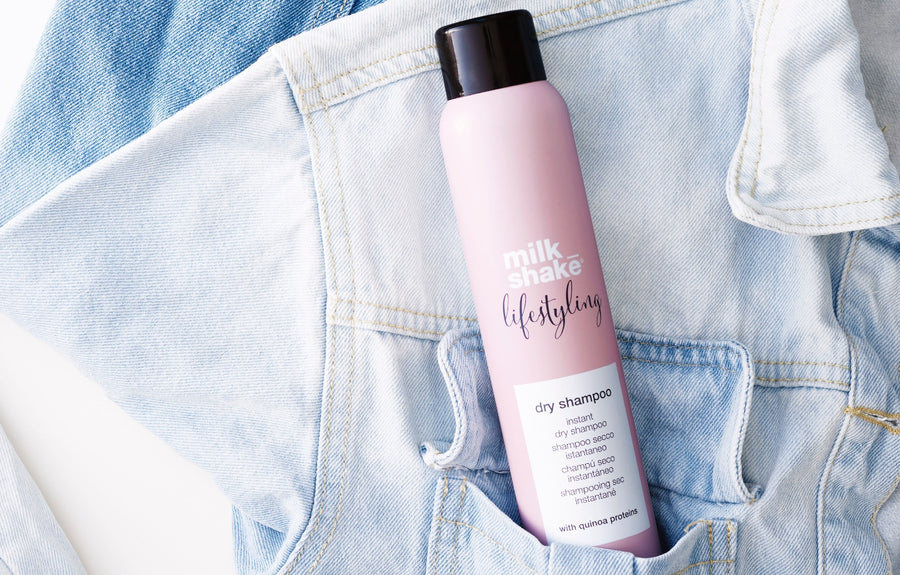 Surprising Ways to Use Dry Shampoo
Dry Shampoo: if you know it, you love it. If you don't, we are here to convert you. What began as the answer to the eternal post-workout style problem, has quickly become a hairstyling staple. Far from simply providing a quick-cleaning, dry shampoo can do everything from boost volume to increase styling "grip." With our specially selected natural ingredients, dry shampoo can even boost your hair's health and vitality.
What is Dry Shampoo?
While every dry shampoo has its own unique ingredients and benefits, what makes a dry shampoo a dry shampoo is its ability to refresh hair without using water. Every formula will contain some form of starch that acts almost like a sponge for oil and sebum–which gives hair a greasy look. 
Our milk_shake life styling dry shampoo uses a modified starch that absorbs sebum and reduces the shiny appearance and heaviness of hair. Our formula has the added benefit of hemp seed oil, which nourishes and moisturizes hair from the inside out. 
How to "Dry Clean" your hair
Dry shampoo is THE fast solution to dirty strands, but there are a few steps beyond just "spray n' go." If you're in a rush to refresh your hair, here's the quick and dirty for a clean look:
Hold milk_shake life styling dry shampoo 4-6 inches away from your head, focusing on roots. Most oil naturally occurs along the hairline, at the crown of the head, and/or the nape of the neck. That's where you'll want to begin. 
After you've applied the product to the oiliest parts of your hair, massage it into your scalp, using your fingertips. This will work the product into the roots and make sure that it is more evenly distributed. 
Use a brush to distribute the rest of the dry shampoo throughout the hair, and style as usual. *TIP: If your hair is looking a little flat after application, use your hairdryer on the "cool" setting and direct the airflow at the roots to increase volume. 
Using Dry Shampoo for Styling
Pro stylists know that clean hair is harder to style than hair with a little "grip." This is why a stylist will often ask you to come into an updo appointment with "day old" hair. You can get the same effect by applying a little dry shampoo before you style. Our formula is specifically designed to clean hair without leaving a residue, which could potentially weigh down your style. Instead, you get great texture, a fabulous scent, and volume for days. 
Preventive maintenance
Use milk_shake lifestyling dry shampoo before going to sleep, and you will wake up to clean, beautiful refreshed hair that is ready to style. Alternatively, a couple of sprays before heading out for a run or hitting the gym can help to reduce post-workout styling time. 

On Textured hair
Curly-haired beauties may fall in love with dry shampoo a little faster than the rest, as it is the perfect pick me up for flat, lifeless curls. Oil buildup can quickly weigh down curls and waves, but that's nothing a quick spritz of dry shampoo can't handle.
It can also help to separate clumped curls for extra definition. 
On straight or fine hair
Alternatively, dry shampoo can help give extra body and texture to straighter strands. A quick application of dry shampoo before heat styling can result in the ultimate beachy waves. You can also add a little extra oomph to a high pony or topknot, with an even application of dry shampoo before styling.
How often to Use Dry Shampoo?
Dry shampoo may be a miracle product, but all good things can be overdone. Used too often, dry shampoo can accumulate on the scalp. You'll want to limit your usage to two days in a row, before cleansing with traditional shampoo and water. This will keep your hair and scalp healthy while freeing up your blow-dry time.