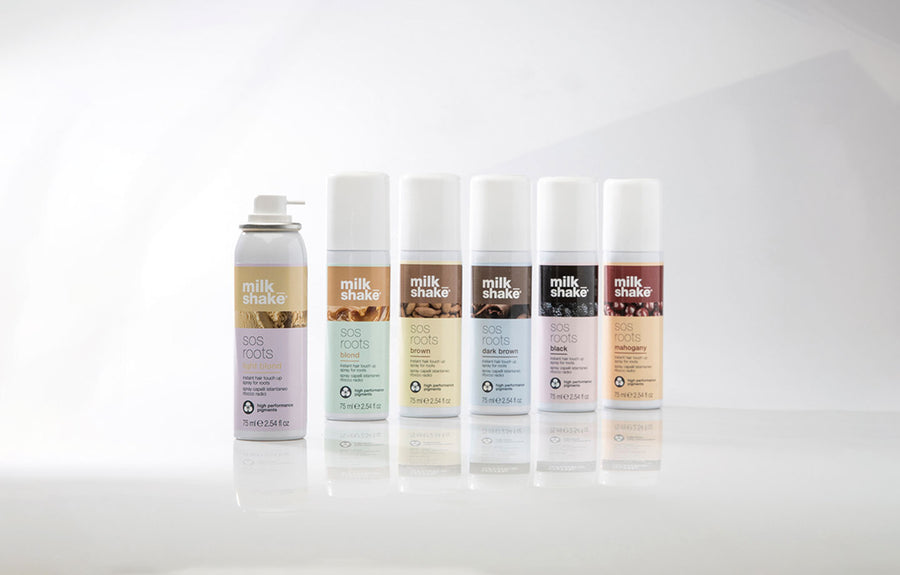 This is the Easiest Way to Cover Gray Roots
It never fails, midway between salon appointments, those sneaky gray roots start to creep back into your temples and center part. The longer you wait to cover them, the more noticeable they are going to be, but you still have weeks to wait until your next appointment. The chances of matching your salon quality color job to a quick box fix to "get you through" is practically non-existent. Your colorist likely custom mixes your shade for you and no ready-made dye is going to come close to matching. This is exactly why milk_shake developed SOS Roots. This temporary color spray blends seamlessly into your professional color, masking your grays until your next salon visit. At-home fixes for root touch ups can be daunting, however. So, we put together this quick guide to getting the most out of your SOS roots application.
What is SOS roots?
SOS roots
is a professional quality, ammonia-free instant touch-up spray. It evenly covers gray roots, and blends into nearly any hair color. It is available in 6 shades and works well with all hair types and textures.
SOS roots
is easy to apply, dries quickly and washes out with shampoo. It is available in the following shades:
Light Blonde
Blond
Brown
Dark Brown
Mahogany
Black

How to Cover Gray Hair with SOS roots
While you may be tempted to spray SOS roots directly onto your hair, the most natural looking results come from using the included applicator brush.
SOS roots
is a powerful, professional quality spray and it covers the hair very easily. Here's how to get the most out of your SOS roots application:
Style hair as you normally would.
Spray a small amount of SOS roots on the included applicator brush.
Comb in small strokes along the hairline, or parting.
Let dry.
**It is recommended that you do NOT touch SOS roots after application. No one likes to be caught with gray roots weeks away from your next salon appointment. Instead of trying to DIY your way out of it, try a professional quality product that won't put your color at risk. Roots happen and dealing with them doesn't have to be hard.