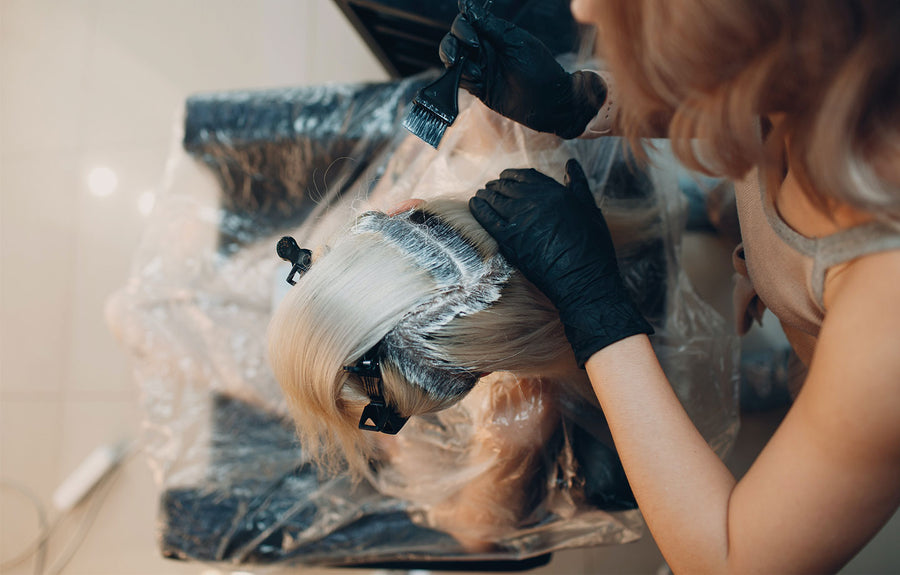 5 Reasons Why You Should Never Use a Box Hair Color
"You get what you pay for" has never been more true than when comparing box hair color to professional, in-salon, hair color services. While it may seem like a good option for the budget-conscious DIY-er, in the end, box hair dye can destroy those healthy locks (and wallets) you're working so hard to protect. Consider these five hair and money saving details before picking that next box of color off of the pharmacy shelf.
1. Ingredients
There's a reason the price point for box hair dye is lower than its professional counterpart. Most manufacturers of box hair color include the lowest amount of pigment possible in order to control costs. Salon hair color, on the other hand, considers individual hair quality and necessary level of pigment to deliver superior results.  In other words, is your hair only worth a "one-shade fits all approach," or do you want a color mixed not only to strengthen and nourish your style, but your hair as well? Boxed hair color manufacturers typically leave the post-color reconditioning to you, making recommended treatments based on generalizations and leaving a lot of room for
fading, breakage and even hair loss.
  Salon treatments, on the other hand,  typically include additional conditioning agents like milk_shake's amino acid complex and milk proteins which are formulated to protect and nourish hair during and after the coloring process.
2. Formulation
Developer, sometimes referred to as activator, is responsible for the chemical processes that allow hair color to be deposited into the hair shaft--the activator for the pigment in your hair color. The use of a proper developer is essential to any hair color in order for that color to bond with the hair. Professional hair color companies offer a range of developers—10, 20, and 30 volume, typically—that are designed to protect different hair types while delivering the desired color results. Hair with higher porosity or existing damage, for example, is better served by a lower volume developer and a stylist in a salon will pick a developer based on your current hair color and health. Box hair color uses one level of developer across the board, making for unpredictable, unhealthy and often disappointing results.
3. Customization
The perfect hair style is personal, period, and quality results require a lot of customization. A box off a shelf simply can't deliver. When it comes to creating a color look that works for you, consider this:
●     Skin tone and eye color: These are the first things you and your stylist should take into account when choosing your perfect shades. Without an in-depth knowledge of color families, it can sometimes be difficult to determine flattering colors on your own.
●     Hair type and porosity: These are major considerations when deciding what type of color and level of developer to use. Make sure to ask your stylist if the color you're looking for is safe for your hair.
●     Existing color and/or percentage of gray hair: Color treated and Gray hairs take color differently than other types of hair. Your stylist will know which different formulations to use when compensating for pre-existing hair conditions.
4. Application
The "one-shade-fits-all" approach of box hair dye typically ends in a flat, one dimensional head of hair. Professional stylists usually don't stick to just one shade when coloring a client's hair, instead using tonal variations to add the dimension and body you're looking to achieve in a new style. What shades work best together? How to place color so that it looks natural and healthy? Just a few of the questions and results your stylist is capable of answering and providing. Not to mention the back of the head and making sure it's fully covered—almost impossible to do on your own! In the end, your colorist might also recommend special treatments or additives to keep your hair vibrant and healthy as long as possible, eliminating costly touch-ups and recolors. Let's be honest, a box just can't know you like that!
5. Cost
Corrective color often costs 3x or more what a standard full foil service does. Why? The work involved. Multiple appointments for restorative conditioning treatments, an outgrowth of healthy hair, restyling, trimming damaged strands, preventative maintenance and touch-ups are all common in returning hair to optimal health. A month or more of hair re-growth can be common before a stylist is ready to attempt a full head recolor. In the meantime, you might be left with the less than flattering results of your box hair color job while your stylist does their best to repair your hair. To correct a previous color job, a stylist will first attempt to:
1.    Strip out the unwanted color
2.    Treat the hair, using a restorative deep conditioning treatment
3.    Color in stages to preserve and improve hair health and integrity
4.    Treat between every stage, to restore hair health. Many salons will charge hourly for corrective color (vs.a flat predetermined charge for standard color services). As a complete color correction could take several 2-3 hour appointments over the span of a few months, it can really add up. Whether cost, hair health or style is the reason behind your next big hair transformation, consider the benefits of salon quality service before you pick up that next Drug Store box color.  While you might be saving some cash up front, the unpredictability of store bought color is something to consider. Is it worth the cash now if you're unhappy with the results? To avoid months of hat-hair, multiple restorative trips and hourly hair-care charges, maybe just start at the salon where, if they get it wrong, your stylist is standing by to consult with and, almost always, get it just the way you want it without the extra cost. To book your professional hair color service, find a z.one concept salon near you here