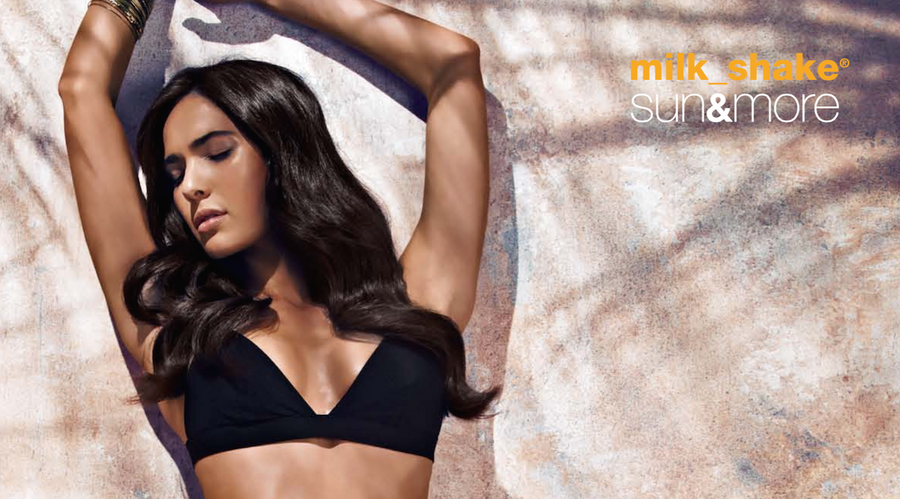 7 tips for healthy and gorgeous summer hair
With the summer party and beach season just around the corner, now is the time to start prepping your hair so that it stays healthy, shiny and radiant. Just as the sun damages your skin, it can damage your hair, too. Saltwater and chlorine also take a toll on our tresses. But summer doesn't have to be the season of bad hair days. Learn how to protect your hair from the heat, sun, and humidity without turning it into an endless battle. We're sharing some tips and tricks that will help keep your strands in top shape through beach, pool, and sun.
Tip #1: Protection Your skin isn't the only part of your body that needs a sun protection. Your strands are susceptible to sun damage, too. Exposure to damaging UV rays causes hair to become brittle, break easily, and leaves it dehydrated and unmanageable. The solution? Hair sunscreen. Make a daily habit of applying a hair care product that contains UV filters like Incredible Milk or Leave In Conditioner. These products protect hair from sun damage and help keep color-processed hair from fading.
Tip #2: The Pre-Chlorine Rinse The sun isn't the only thing that can leave your hair dry and brittle - chlorine is to blame in dried-out strands, too. Solution: before taking a dip in a pool, rinse your hair with non-chlorine water, first. Your hair follicle will open and soak up this water, rather than the chlorine-filled water you're about to submerge yourself in. For a maximum protection spray your hair with Incredible Milk or Leave In Conditioner before getting into pool.
Tip #3: The Post-Chlorine Rinse Whether it be after a nice dip in the pool or a long day at the beach, it's a good idea to wash your hair right after exposure. Chlorine builds up on the hair and leaves a discoloring green film, and this isn't a blonde-only problem, although the buildup is more obvious on light-colored locks. Use Deep Cleansing Shampoo which has residue-removing properties. Just be sure to follow with a deep-conditioning treatment like Milk Mask suitable for dry and damaged hair or Yogurt Mask for normal or color treated hair.
Tip #4: Moisturize Invest in a good shampoo! Summer is the right season to switch to a moisturizing shampoo and conditioner. Just as your body needs water to survive, your hair must replenish its moisture to stay healthy. Try Color Maintainer shampoo and conditioner to keep your locks shiny and healthy and protect your color from fading. For cooling effect try Sensorial Mint shampoo and conditioner that soothes the scalp and conditions the hair after a long day in the sun.
Tip #5: Reduce the heat Try to blow-dry your hair as little as possible. It is already exposed to a significant amount of heat on a daily basis in the summer, and it will probably air-dry quickly anyways, so give the blow dryer a break and go au naturel if you can. Avoid flat irons, too, as they will do further damage to already-dry hair.
Tip #6: Nurture and Repair To replenish moisture to sun-damaged strands, use deep conditioning masks at least once a week. Try Integrity Intensive Treatment with organic Muru Muru butter to deeply nourish the hair and eliminate frizz. It seals the cuticle and gives softness, shine and detangles the hair whilst preserving the integrity of hair color. Oils are also essential to smooth and repair locks and can be applied to wet or dry hair, try Argan Oil or Smoothing Maracuja Oil to give your hair extra hydration and healthy shine.
Tip #7: Fight Frizz Just because your locks have a tendency to turn fuzzy and fly away in the heat, it doesn't mean you have to sacrifice a good hair day. Begin the war by starting in the shower. Argan Shampoo and Treatment with organic argan oil, silk and rice proteins will hydrate, condition and nourish your hair, eliminating the frizz. Apply Glistening Milk on damp hair to seal the cuticle and keep hair lying flat before you start with styling. As soon as your hair begins to dry, the frizz begins to form. Glistening Serum will be your best friend, because it has a blend of silicones, which coat your hair and repel frizz-causing moisture. This double-duty product act as a frizz preventative on damp hair or a frizz treatment on dry hair (or apply it for both, if you're dealing with a serious humidity situation).