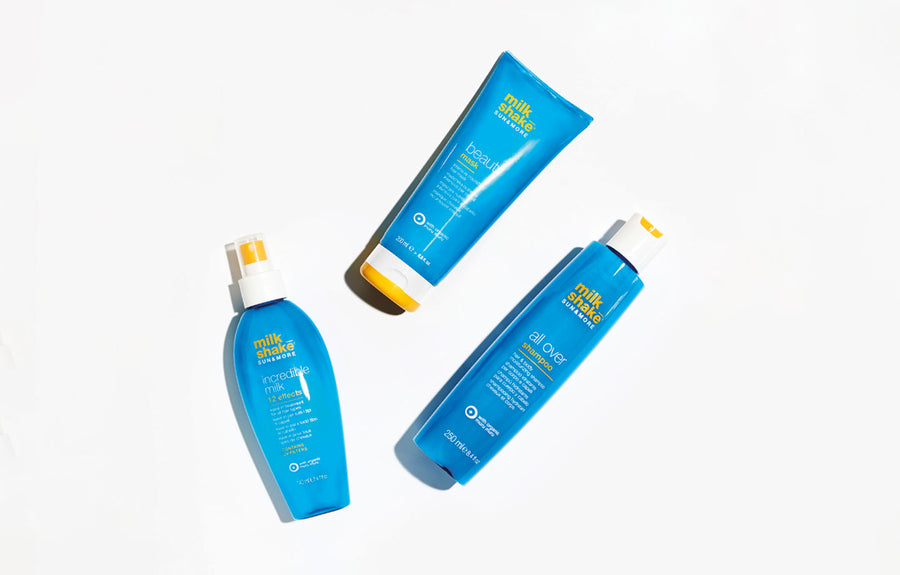 Protect your hair from sun damage
Sure, summer carries the promise of pool-side days, margarita mixers and tan lines, but the same sun-drenched months we look forward to all year tend to test the mettle of our hair-care routines; too much sun and you're left with a head that feels a little like a bail of farm animal feed. The brittle straw-like texture our hair takes on after one too many beachside days is called sun damage, and while there are a few easy ways to prevent hair from reaching barnyard status, the "cure" for sun-damaged hair is even simpler—there really isn't one. So, before the next backyard barbecue or beach blanket binger, get some hair knowledge under your belt and then try these three easy ways to protect yourself from the dryness of summer sun damage. You might disappoint a couple of horses, but, we promise you, your hair will thank you all year long.
How the Sun Damages Hair
Prolonged exposure to the sun's UVA and UVB rays work to break down the outer layer of the hair—the cuticle. Damage to the cuticle can cause a loss of both pigment (colour) and keratin, a naturally occurring protein responsible for strong, smooth, healthy hair. As a result, sun damaged hair is like hair that has been damaged by chemical lighteners—it becomes dry, brittle and more prone to frizziness and split ends. Melanin, the same pigment that protects our skin from the sun's radiation, does the same for our hair. Fairer skinned men and women have less melanin to protect their skin, and tend to burn faster and more easily during prolonged periods in the sun. Those with lighter hair colors are most prone to sun damaged hair for the same reason. Hair type and texture can also play roles in how our hair reacts to the sun. Those with natural curl, for example, have a more delicate hair structure. This leaves them more prone to cuticle damage and keratin loss, whatever their natural hair colour. Moral of the story? Blondes don't always have more fun. Those gorgeous curls are sometimes more harm than help and bleaching your hair to get that sun kissed glow is going to cause you more problems than it's worth, if you aren't careful. Remember, once it's straw, there's no spinning it back into gold. Avoid the split ends and frizz by starting early and prevent the barnyard up-do before it even begins.
Protect to prevent
An easy way to protect hair from UVA and UVB rays is to physically block them by wearing a hat or headscarf. Simple fix, right? Except, if it's already hot enough to don a swimsuit, what are the chances anyone really wants to add a heat retaining hat to the day's ensemble? Slim to none. Instead, try looking for products that do the job of a hat, without all the extra layers. Products like milk_shake's Sun & More contain filters that, like sunscreen, work to block the harmful UVA and UVB rays from penetrating the hair shaft. Apply evenly and regularly to achieve a full layer of sun protection for your hair, without all the sweat producing heat retention of a full-blown head covering.
Cleanse gently, and often
The sun isn't the only culprit to blame for your summer hair debacle—chlorine, sweat, and saltwater can all play a part in contributing to poor hair health. Chemicals and salt help to suck moisture out of the hair, removing essential oils, the hair's natural layers of defence, and leaving your hair primed for the damage caused by overexposure to the sun. By cleansing thoroughly with a gentle, nourishing shampoo, you can avoid the build-up of harmful substances on the hair and replenish some of its natural moisture defence. Milk_shake's All-over shampoo was designed to do exactly that. With added UV filters and quinoa protein for infused strength, not only will it remove potentially harmful chemicals and restore moisture, it'll be your first line of defence against the sun's radiation.
Nourish frequently
Used properly, certain products can replenish the moisture that the sun's rays take away. Perhaps counter to what we know about using oil on our skin before spending time in the sun, applying a hair oil before heading outdoors can actively hydrate the hair and protect from heat damage. Incorporate a nourishing mask with a focus on hydration more frequently into your care routine. Milk_shake's Beauty Mask has built-in UV ray protection that helps to retain moisture and reinforce the hair's protein structure while deep conditioning to counteract damage caused by the heat and sun.  Prevention really is the most effective form of treatment when it comes to sun damaged hair. Be sure to check your care and styling products for UV filters and incorporate additional moisturizers into your routine. If nothing else, covering up your hair when you'll be spending a lot of time outdoors is a sure-fire means of preventing damage because, yes, hat-hair is better than hay-hair. Although, if you really have the feels for that pair of horses…
Visit your local milk_shake salon to purchase milk_shake's Sun & More kit—everything you need to keep your hair healthy in the summer.