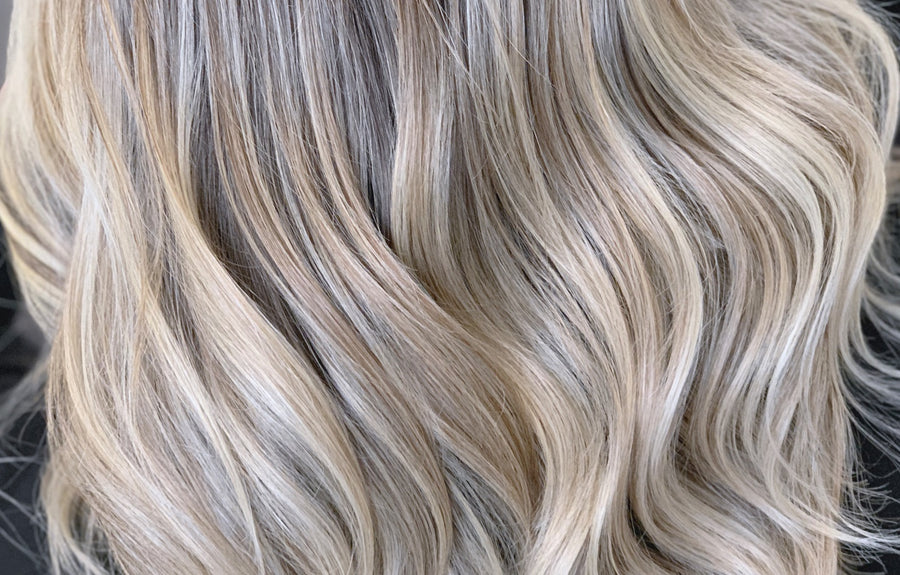 How to Choose the Right Blonde Haircare product for your Hair
Being blonde comes with its own unique set of challenges. While natural blondes have to contend with environmental factors like water deposits, there is a whole other side of care for "bottle" blondes. The number one struggle for those with chemically lightened hair is unwanted yellow, gold or orange undertones that can tend to creep back into hair in the weeks following a blonding service.
Following that, the process of "lifting" color can be stressful for hair, weakening its structure. Blondes just have more…care needed to keep them shiny, healthy, and beautiful.
Which is why milk_shake takes extra special care of our blondes. We have developed an entire suite of hair care products designed especially for blondes. From neutralizing brass to imparting a cool, silvery effect, we have a blonde haircare product for everyone.
What blonde haircare products does milk_shake carry?
The original blonde maintenance powerhouse, the Silver Shine family of products contains a shampoo, conditioner, and specially formulated whipped cream no-rinse conditioning foam. Our now infamous purple tinted formula neutralizes unwanted yellow tones in blond, lightened, and grey hair. This popular shampoo is SLES FREE, and the corresponding conditioner is paraben free. The incredible combo also contains organic berry extracts and milk proteins for lustrous, soft and healthy hair.
Combined with naturally occurring polyphenols (antioxidants) for added color protection and a delightful scent of berries, florals and just a hint of musk, Silver Shine is as much a joy to use as it is a powerful blond protector. 
Similar to our original formula, Silver Shine Light shampoo counteracts unwanted golden and yellow undertones in very light, white, and gray hair. While it contains 50% less pigment than our original formula, this delicate cleanser is powerful enough to neutralize even the most subtle yellow tones, while leaving hair soft, healthy and beautifully scented.
This formula is further enriched with our patented integrity 41® complex, for improved strength and vitality.
Fun Fact: A bottle of Silver Shine shampoo is sold every minute!
The latest addition to our brass fighting family, Icy Blond shampoo and conditioner packs a powerful one-two punch. The dramatic black pigment in Icy Blond deposits onto hair, effectively stopping brassy undertones in their tracks, while also imparting an added cool-ash tone to hair. It is designed for very light to platinum blondes, metallic grey and silver toned hair.
It should be noted that Icy Blonde products are extremely powerful, and the longer they sit on the hair, the more intense the deposited color effects will be. These products are so powerful, in fact, that they are often used in the salon to supplement blonding services. Please note once desired results have been achieved, we recommend alternating with milk_shake color maintainer shampoo & conditioner.
 Icy blond shampoo and conditioner contains all of the hair health promoting ingredients that is the signature of all milk_shake care and styling products. Milk proteins and amino acids strengthen hair, while rice oil provides hydration and shine. Grape extract gives superior color protection and provides Icy Blond's signature scent.
When should I use each product?
If you have natural or chemically lightened light blonde, need to revive grey hair or white hair and want to neutralize your existing yellow undertones, Silver Shine is the perfect product family for you. This gentle yet powerful family of products can be used weekly to maintain a brass-free effect and promote hair health. Silver Shine contains violet pigments, which counteract yellow tones giving a cool neutral blond tone to hair.
If you have chemically lightened hair, very light blonde, platinum hair, cool ash-toned blonde, need to prolong grey or silver tones, you can use Icy Blond to turn up the volume on your cool ash tones. The main difference between these two blonde care product families is that Icy Blonde contains a specific black pigment which will amplify existing ash and cool tones in the hair, and if left on for longer periods create a silver effect in very light hair.
All blondes are beautiful, and deserve to have their true radiance shine through, free of unwanted brass. No matter what your current blonde shade, there is a milk_shake care product that can help you achieve and maintain your perfect blonde.