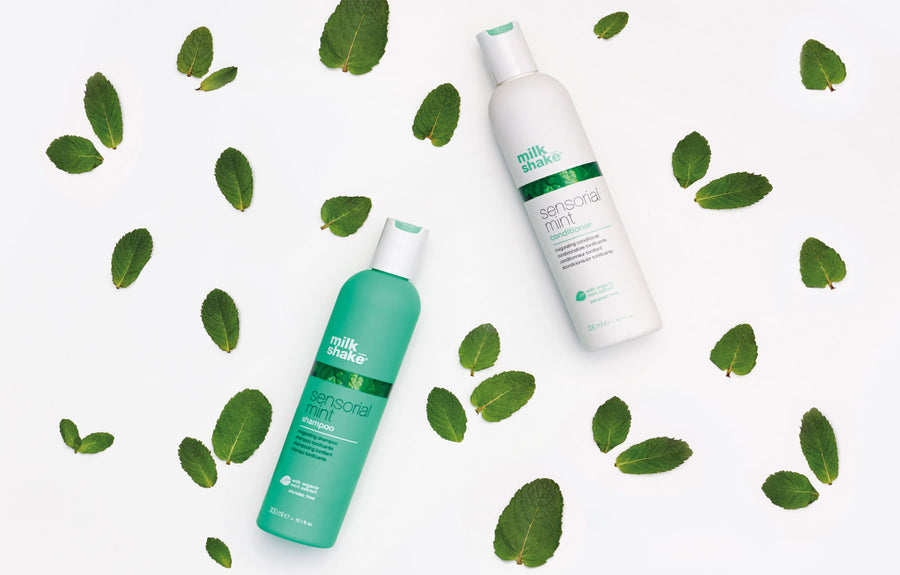 Discover The Benefits Of Organic Mint For Your Hair
Spring refresh your hair:  discover the benefits of organic mint for your hair
Warm weather means spending more time outdoors and more activity. Your body loves you for it. Your hair, not so much. Your strands lubricate on their own with your scalp's sebaceous glands but, when you get active, you sweat more. This salty lubrication isn't the hydrating kind: it can cause breakage, chronic dryness, and flaky skin that brings dandruff a'knockin'.
Fear not: a quick shampoo switch-out is often the easiest solution. milk_shake Sensorial Mint shampoo is an invigorating, moisturizing, and shine-inducing sweat solution full of gently hydrating fruit extracts.
The shampoo is named for more than just its stimulating scent. Mint is known for cleansing and stimulating your scalp to counteract dryness from sweat and sunbathing.
milk_shake sensorial mint shampoo has a delicate SLS-free formula to hydrate and invigorate scalp and hair. Organic mint extract refreshes scalp and hair, and has a fresh mint leaf fragrance. Perfect for frequent use, especially during the hottest months of the year, or after sports or work-outs.
With flowers and showers come…humidity. Ah, the joy of untamable hair, frizz fests, and limp curls. So what do you do?
The answer is simple: moisturize! milk_shake Sensorial Mint conditioner is the perfect pairing for its springtime shampoo sister. Milk proteins make this conditioner a wonderfully moisturizing option, and its mint-and-cream combination allows it to revitalize damaged strands while rehydrating.
Paraben-free milk_shake sensorial mint conditioner has moisturizing, protective and invigorating properties. Leaves hair soft, vibrant, shiny and hydrated, without being weighed down. Organic mint extract refreshes and nourishes scalp and hair, and has a fresh mint leaf fragrance.
Spring is a time to refresh, to cleanse, and to thrive. Give your hair the same treatment as your life and your wardrobe and infuse those locks with season-appropriate nourishment featuring organic mint.