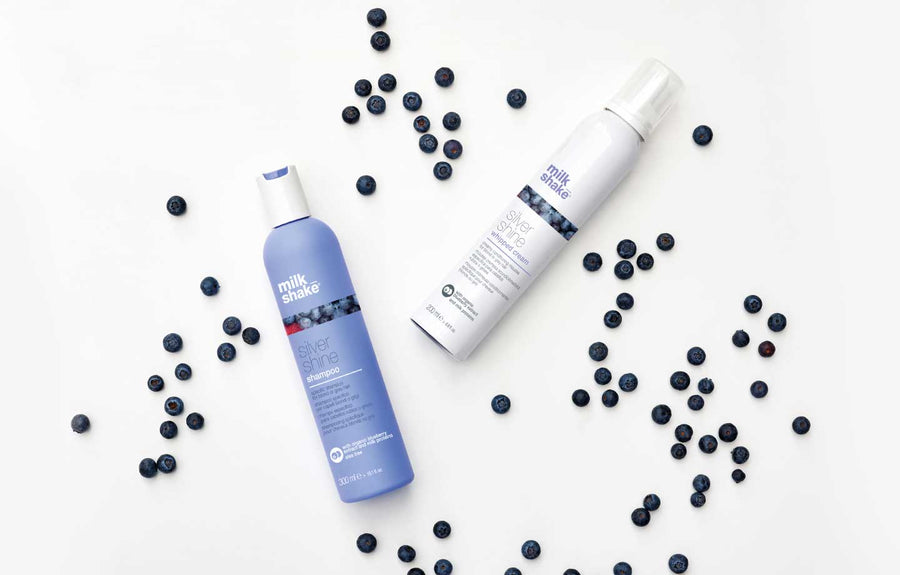 milk shake Silver Shine, the secret to beautiful blond hair
We're having a blond moment. Trendsetters agree that this is the season to choose light, bright hair colors with pastel shades and a light and free look. We know that the real blond, the true iconic blond that women dream of, is a perfect color with radiant tones. It's well-kept, and doesn't have any unsightly brassy tones. Most of us dream of soft and radiant hair, with natural tones. However, pollution, bleaching and aggressive cleansers can have a negative and weakening effect on the hair. Whether it's naturally blond, grey, white, or has been bleached you can end up with unwanted yellow or brassy tones. At the same time, the hair's structure tends to weaken and the whole head of hair appears unkempt, dry and dull.
To counteract these effects, we have created milk shake silver shine range, to give blond hair beautiful shine whilst revitalizing and restructuring the hair. Silver Shine has been created to neutralize yellow or brassy tones that can occur in blond hair, lightened hair or greys, with two main results:
1/ yellow or brassy tones are neutralized; the natural tones of blond hair, lightened hair, or greys are enhanced
2/ hair is soft, manageable, revitalized and shiny The combination of these two elements make milk shake silver shine a unique product on the market. As a result the yellow or brassy tones are neutralized and the hair is gently improved in one unique solution. The range, composed of a shampoo and whipped cream leave in foam, contains selected active ingredients like violet pigment and berry extracts to condition the hair and protect from pollution.
milk shake silver shine shampoo
specific shampoo for blond or grey hair The shampoo contains a special violet pigment that neutralizes brassy tones, giving shine to blond, grey or white hair. We have enriched the formula with organic berry extracts to condition the scalp and nourish the hair. Milk proteins will reinforce the hair's structure as they have a high affinity with the structure of Keratin present in the hair. Use: distribute evenly over damp hair and lather, then rinse. Repeat if necessary. For more intense results, leave in for a few minutes before rinsing.

milk shake silver shine whipped cream
conditioning leave in foam for blond or grey hair
Silver shine whipped cream contains the same active ingredients of the bestselling milk_shake Whipped Cream. With the added bonus of Integrity 41®, a concentrated sunflower seed extract, it has a high antioxidant polyphenol content.
Silver shine whipped cream
is a precious ally when it comes to color protection. The light and delicate berry fragrance with a soft, musky base scent make the application process a rewarding experience, leaving blond hair beautifully transformed. Paraben free.
Use:
shake well, point downwards and dispense. Apply to damp, clean hair, then style. The products may be combined for a more intense effect, but can also be used separately according to the desired result. In both cases, hair will be shiny, soft and vibrant. Have you tried them yet? Let us know in comments below.