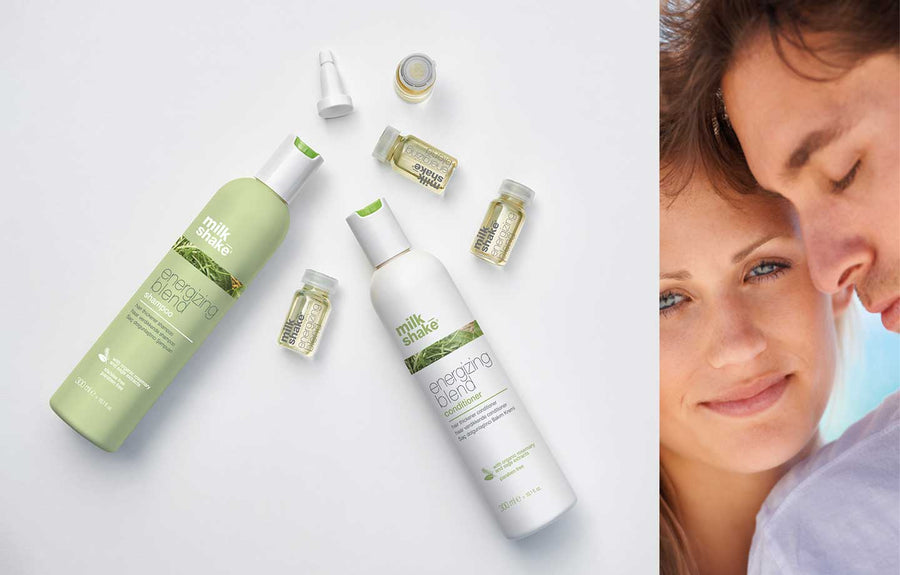 milk_shake Energizing Blend
When your hair is thinning, it can be devastating. It affects the way people see you and the way you see yourself. You might even feel less attractive and less confident. Today, it's widely known that an estimated 35 million men and 21 million women in the U.S. will experience thinning hair at some point in their lives. Statistics show that a whole range of factors, including stress, hormonal changes, over styling, poor nutrition, age, menopause, post-pregnancy, and medication can impact the health of the hair and hair growth. z.one concept offers a new beauty solution. Specific products that energize thin, weak and fragile hair. Organic botanical extract-based treatments and essential oils enhance hair growth giving more density to the hair thanks to their stimulating features. milk_shake energizing blend is the product line specifically studied to stimulate the hair bulb, encouraging a better scalp's micro-circulation and giving hair a visible densifying effect. Shampoo, conditioner and scalp treatment for thicker, fuller looking hair. Thanks to the naturally derived active ingredients with stimulating features and a proper scalp massage, milk shake energizing blend products enhance hair growth giving more density to the hair. A NEW INVIGORATING EXPERIENCE THAT STIMULATES THE SCALP, THE HAIR AND THE BODY
Energizing shampoo for fine, thinning and fragile hair, cleanses deeply but gently respecting the scalp and hair. Natural powers of organic rosemary, sage and Fioravanti balm extract purifies, fortifies hair and stimulates the scalp's micro-circulation to create an optimal environment for new hair growth. The blend of botanical extracts and special conditioners invigorates the hair stem and gives softness, panthenol gives more density to the hair, essential oils and eucalyptus instill a pleasant energizing feeling, leaving the scalp refreshed. READ MORE
Conditioner for fine, thinning and fragile hair, hydrates, detangles and gives softness without weighing the hair down. Natural powers of organic rosemary, sage and Fioravanti balm extract purifies, fortifies hair and stimulates the scalp's micro-circulation to create an optimal environment for new hair growth. The blend of botanical extracts and special conditioners invigorates the hair stem and gives softness, panthenol gives more density to the hair, essential oils and eucalyptus instill a pleasant energizing feeling, leaving the scalp refreshed. READ MORE
energizing blend hair thickener scalp treatment
An energizing and fortifying lotion to restore fullness, thickness, and luster to fine, thinning and fragile hair. Natural powers of organic rosemary, sage and Fioravanti balm extract purifies, fortifies hair and stimulates the scalp's micro-circulation to create an optimal environment for new hair growth. The blend of botanical extracts and special conditioners invigorates the hair stem and gives softness, panthenol gives more density to the hair, essential oils and eucalyptus instill a pleasant energizing feeling, leaving the scalp refreshed. READ MORE 
Learn about all the naturally derived active ingredients of milk shake Energizing Blend Natural powers of organic rosemary, sage and Fioravanti balm extract purifies, fortifies hair and stimulates the scalp's microcirculation to create an optimal environment for new hair growth. The blend of botanical extracts and special conditioners invigorates the hair stem and gives softness, panthenol gives more density to the hair, essential oils and eucalyptus instill a pleasant energizing feeling, leaving the scalp refreshed.
The innovative formula of milk_shake energizing blend contains:
_ organic rosemary, known for its energizing properties, stimulates follicles helping natural growth of hair, promotes the oxygenation of tissues, has a tonic, antiseptic and purifying effect
_ organic sage has an anti-inflammatory, anti-microbial and deodorizing function _ fioravanti balm is a potion obtained from 10 different plants which all have unique refreshing, stimulating and toning properties
_ naturally derived glycerine has a moisturizing, hydrating and volumizing action mix of 11 essential oils gives natural scent and has energizing, stimulating and purifying properties
_ sls/sles and paraben free formula ASK YOUR HAIRDRESSER FOR ADVISE It's important to intervene against hair loss with an efficient program created by z.one concept researchers in order to restore the hair's natural growth cycle. It's important to put yourself in the hands of a specialist. Talk to a trusted professional who works with hair everyday. Ask your hairdresser.