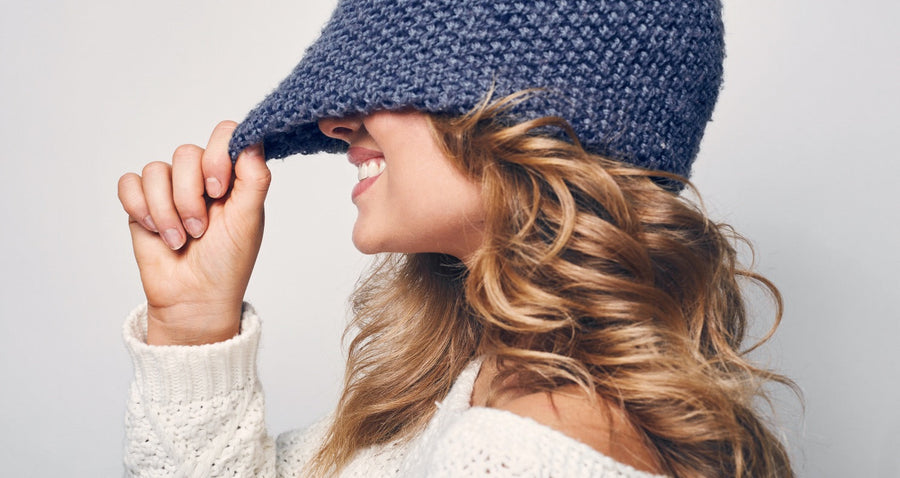 Repair, Protect, & Prep: A Guide to Winter Haircare
With the coming of winter, the days get colder, the nights get longer and life just seems to slow down. While the colder months can bring their own challenges to hair care, they can also be a great time to focus on repairing any damage done throughout the year. Trying out different colors and styles throughout the year takes a toll on our hair. Giving it a little extra love and attention while we are mostly stuck inside anyways, can be a great way to undo any negative impact on our hair health. Plus, properly prepping strands for any upcoming spring style changes can even help to prevent future damage. By using a combination of nourishing color choices, protective styling, and intensive treatments, we can take full advantage of the natural slowing down of the season, to do some serious self haircare. 
Winter Hair Color
It can be tempting to start dreaming about warmer, sunnier days as soon as the temperature starts to drop. And with warmer temps, typically comes the desire for lighter locks. While there is nothing inherently
bad
about lightening your hair color, if you want to
maintain your hair's health
, it's best to provide a little relief from time to time. When the mercury starts to drop and we shake our sweaters out from storage, it's the perfect time to also consider taking our color down a few notches. Moving from a high-octane blonde to something more buttery and warm, not only feels more inline with the shifting season, but it can also serve to replenish the hair shaft. Ever wonder why so many blondes tend to "go dark" in the Fall? When we lighten our hair, we are removing color pigments from the hair shaft. In the salon, these missing color pigments are replaced right after the bleach processes with a glaze treatment, or demi/semi-permanent color. This helps to maintain the integrity of the hair shaft and helps with moisture retention and shine. Over time, glazing treatments wash out. As a result, your color will start to look faded and your hair may also feel drier and more brittle. The good news is that by going a shade or two darker, you can replace those missing color pigments, in a non-permanent way. Those glaze treatments can be re-applied, every six weeks, to maintain the integrity of the hair shaft and your overall hair health.
Protective Hairstyling
Unless you are a naturally curly girl, you may not be familiar with the term "protective style", but it's likely you know more than you think. Many of us are probably already using protective hairstyles, without even realizing it. Buns, braids and twists can all qualify, as long as the ends of the hair are protected and there is minimal need for restyling. Since your hair grows from the root, the ends are the oldest and most fragile part of the shaft. This is typically where the most damage and breakage occurs. Protecting the ends, with a sweet chignon or trendy twist can help to prevent that damage from happening. While there are numerous options out there for protective styling, in order to get the most benefits, your style should
The Golden Rules of Protective Styling
Protect the ends: be sure that your style keeps your ends shielded from potential damage.
Leave it be: style your hair in such a way that you will need minimal restyling for at least a couple of days. Remember, the main point of protective styling is to give your hair a rest.
Change it up: If you wear a high bun one week, move your style down to the nape of your neck the following week. This prevents tension in the same areas of your hair, for too long, which can lead to breakage.
Now that we've laid the ground rules, feel free to get creative with your protective styling! French twists are a classic choice for medium length to long hair, which buns and braids work for just about everyone. If you're looking for some inspiration, check out some of our favorite braided styles. 

Winter Haircare Treatments
Long days indoors offer the perfect opportunity for a little extra hair love. A well-rounded haircare routine incorporates daily, weekly and monthly practices to ensure that your hair is getting a consistent infusion of nutrients. No matter how healthy your hair is, you're likely to experience a little extra dryness, as moisture leaves the air. Switching your products over to include an extra moisture boost can help to prevent these effects.
milk_shake Product Rx: Normal to Dry Hair
Daily: Moisture plus shampoo & conditioner PLUS Leave-in conditioner OR Moisture Plus Whipped Cream. Weekly: milk_shake yogurt mask OR Moisture Plus Lotion Monthly: milk_shake Integrity Nourishing muru muru butter No matter what the condition of your hair is, you can improve and maintain it's health with a daily leave-in like Incredible Milk. This all-in-one delivers 12 key benefits that not only gives your hair an extra health boost, it also works to keep it shiny and frizz free. Regardless of your hair's type or texture, it will benefit from a combo product like this one. However, if your hair is damaged from chemical processes or heat styling, you may need a little something extra, in addition to taking a break from the curling iron and straightener. Along with adding moisture back into your hair, look for products that help to rebuild and restructure the hair shaft. Adding proteins back into damaged hair is a crucial step in repair.
milk_shake product Rx: Very Dry and/or Damaged Hair
Daily
:
Integrity nourishing shampoo
and
conditioner
, PLUS
Integrity Leave-in
Weekly:
Integrity Intensive treatment
OR
Active Milk Mask
, milk_shake
Integrity Nourishing muru muru butter*
(*if hair is VERY damaged, use this product 1-2x per week, until hair health is restored. then you can reduce to maintaining 2x/month) Winter doesn't have to be all about freezing temperatures and bleak, gray mornings. You can incorporate the natural slowing down of the season by giving yourself (and your hair!) a little extra care. By nourishing and replenishing your hair now, you will be setting yourself up for a fresh new year of styles as soon as the weather breaks.