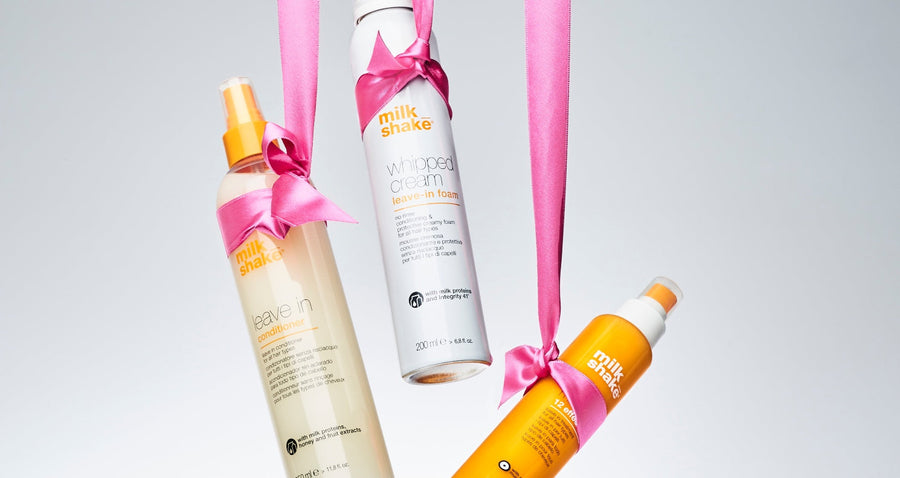 Which Leave-in Conditioner Is Right For You?
If you haven't experienced the power of a good leave-in conditioner, you are definitely missing out. Even the very best in-shower conditioners are limited as a result of being rinsed out after a few minutes. A leave-in, however, has the advantage of being applied after showering, meaning it can continue to impart healthy benefits into your hair all day.
Deciding which leave-in conditioner is right for you and your hair can be a little overwhelming. Depending on your hair type, texture, and desired benefits there are more than a few to choose form. Here, you'll find all of our leave-in conditioners organized by the level of dryness and hair type that they are designed to benefit most. Simply identify which category best fits your hair type and any "special considerations" that you may have, and you will find the right milk_shake leave-in for you.
Normal/Dry Hair
This category fits you if your hair is mostly normal, but you can experience some frizz, occasional static, or are maybe just looking for some extra hydration. These leave-ins also work wonders for maintain optimal levels of moisture in healthy hair.
milk_shake leave in conditioner
milk_shake Leave-in Conditioner: our #1 best-selling product!
Key ingredients: Milk proteins, fruit extracts (strawberry, blueberry, papaya) Integrity 41, Honey Extract, UV filter.
Benefits: Protects the hair shaft, improves manageability, shine, and softness. Enhances moisture and protects color.
Key Ingredients: Milk proteins, Integrity 41
Benefits: Reduces static, increases manageability and softness. Infuses hair with optimal hydration and protects color. An easy-to-use foam, whipped cream is a weightless leave-in perfect for fine or thing hair.
milk_shake whipped cream
Alternatives/Special Considerations:
For Fun: Colour Whipped Creams: Added pigments in 12 different shades. These leave-ins deposit temporary color to hair alongside healthy benefits and shine.

Dry/Very Dry hair
If your hair is consistently dry, easily tangled, and/or prone to static and frizz, this category is for you.
Key ingredients: Organic Muru Muru Butter, Glycolic Extracts (Blackcurrant, Raspberry, Papaya, Mango), Vitamin A, Milk Proteins
Benefits: Repair's hair, controls frizz, prevents split ends, detangles, adds shine, improves the effect of curling wants, straighteners and hold products. This stuff can fix your marriage and help your kids learn common core.
…Ok maybe not, but it does also protect your hair from UV damage, maintain color vibrancy, and smooths your cuticle.
Key Ingredients: Organic Papaya Extract, hyaluronic acid, Integrity 41. What is does NOT have is Parabens.
Benefits: Gives softness and increased manageability. Delivers serious moisture to parched hair and helps to maintain optimal moisture balance in hair that is prone to dryness. Contains anti-aging properties and helps to maintain shine, while protecting color. 
If your hair frequently feels "straw-like" or crumbly, is dull and/or undergoes frequent chemical services (such as lightening/color, or texture services) then you will want to select our more "industrial grade" leave-in.
Key ingredients: Naturally, sourced keratin, proteins, amino acids, hyaluronic acid.
Benefits: Deeply hydrates hair while improving strength, consistency, and manageability.
Naturally, curly hair has its own unique set of needs not often covered by other leave-in products. A leave in for curly hair has to provide definition and LOTS of moisture, without weighing curls down.
Key Ingredients: Organic Pracaxi Oil, Babassu oil, milk proteins, fruit extracts, Integrity 41, Quinoa Proteins. Paraben Free.
Benefits: Improves softness and manageability. Keeps curls bouncy, flexible, and long-lasting.
Blonde hair typically needs a lot of moisture and a little extra help in the shine department. If your hair has honey or caramel tones in it, this leave in is for you.
Key ingredients: Organic Chamomile Extract, Organic Honey, Fruit Extracts (papaya, apricot), Aloe Vera Gel, Integrity 41, NO Parabens.
Benefits: Improves manageability, softness and revitalizes natural highlights.