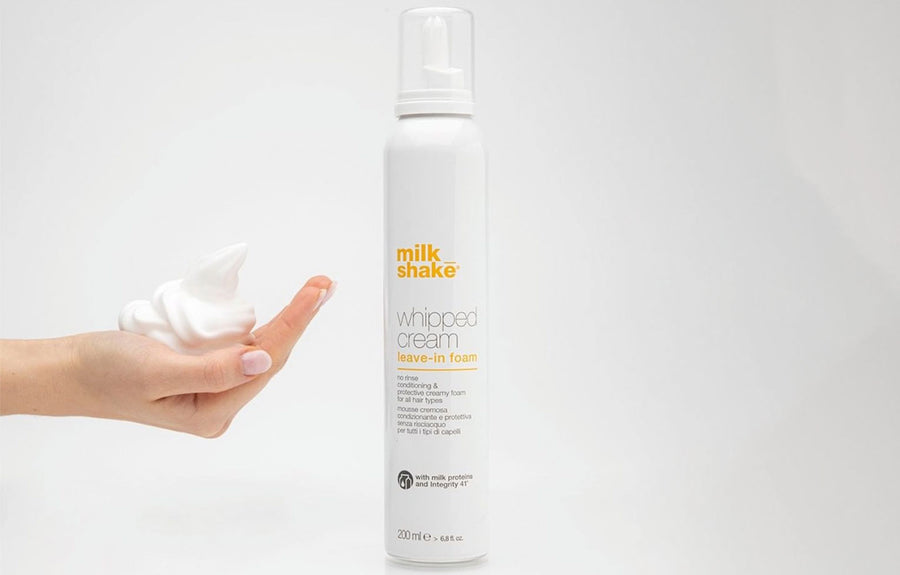 Which Whipped Cream is Right for You?
Everyone loves a little something sweet, which is probably why our most decadent leave-in conditioner is so popular! The main reason why milk_shake Whipped Cream leave-in conditioners are always in demand is because they are so versatile. Whatever your hair type or texture, whipped cream will leave it softer, shinier, more manageable, and thoroughly hydrated.
But that's not all there is to love.
If you've already determined that whipped cream is the right leave-in conditioner for you, the next step is to pick a "flavor"  Depending on your hair's specific needs and the look you are going for, you may want to go with a specific formula. Consider this your guide to choosing the right whipped cream for you.
The Original Whipped Cream
Where it all began, our original whipped cream formula was designed to give all of the same benefits of our popular leave-in conditioner spray, and then some. Milk proteins give hair added strength and structure while Integrity 41 prevents color fading. This weightless foam infuses hair with moisture without weighing it down. It also prevents frizz and increases manageability.
Best for: Normal/Dry Hair
Special Benefits for: Color-treated hair.
We took our original formula and gave it a moisture plus boost. Hyaluronic acid infuses hair with moisture and helps to maintain a healthy balance, while papaya extracts adds nourishing vitamins and conditioners. Moisture plus whipped cream has the same benefits as our original formula, which a few added specifically for hair that needs a lot of extra moisture.
Best for: Dry/Very Dry Hair
Special Benefits for: Aging hair
Blonde hair—whether it be natural or color-treated—typically needs a little extra hydration. Hair that has been lightened also has a tendency to fade into a brassy tone. If you are looking to maintain a cooler blonde while also giving hair added moisture, then you need Silver shine whipped cream. Along with all of the benefits of our original formula, this violet-tinted whipped cream also neutralizes brassiness in blonde, grey, and white hair. Mixed berry extracts give added vitamins and nutrients to keep hair healthier, longer.
Best for: Cool blonde/gray/white hair
No one said that caring for your hair can't also be fun. Color whipped creams have all of the healthy benefits along with sunflower, blueberry, raspberry, and mango extracts for antioxidants, protection, and hydration. These healthy hair powerhouses come in 12 different shades with color effects lasting 1-2 shampoos.
Best for: Platinum/very light blonde/white hair
Whether you are just looking for a moisture boost that won't weigh your hair down or hoping to "try on" a new shade for a day or two—there's a whipped cream for that! No matter which formula you choose you can be sure that your hair is getting the optimal nutrition and healthy benefits—what could be more beautiful than that?