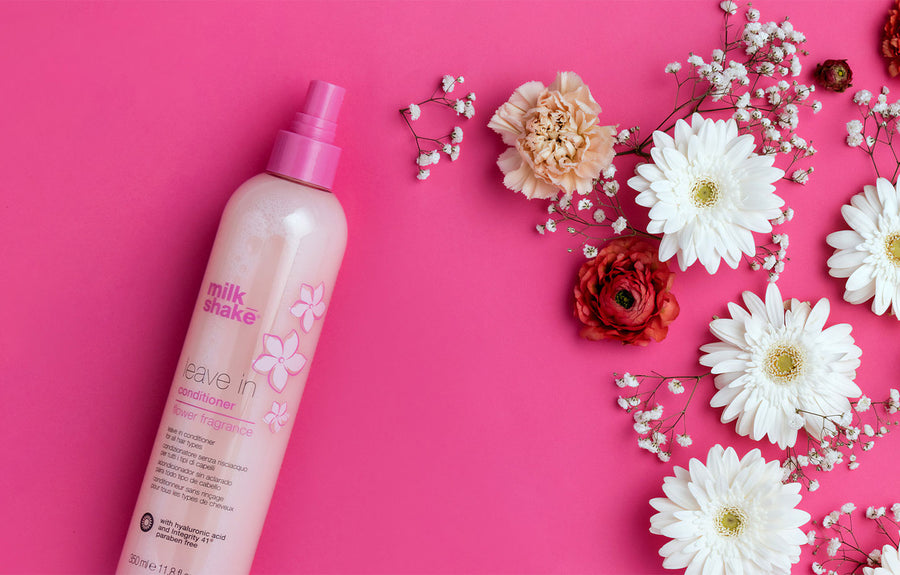 Your favorite leave-in conditioner gets a fresh floral update
With its signature warm vanilla scent and super detangling power, there's a lot to love about our original leave-in conditioner. As a matter of fact, it's our most loved product, with one sold every minute around the world.  
Now there is something new to love—a fresh new scent! 
Introducing milk_shake leave-in conditioner flower fragrance—a refined take on an old favorite. We've kept all of the things that you love about the original and combined them with a seductive, subtle floral fragrance. Our classic leave-in formula gets updated with a fresh ambrosial scent. The delicate perfume of gardenia and jasmine combine with a hint of juicy peach to create a light, well-balanced bouquet. Now whether your style is casual and sweet or more sophisticated, your scent will complement your look.  
Along with a new fragrance, our revitalized leave-in formula contains no ingredients derived from animals, making it vegan-friendly. Plant-based soy proteins strengthen hair's internal structure while hyaluronic acid forms a protective film around each strand. Finally, moringa extract nourishes hair and our patented Integrity 41® complex provides exceptionally long-lasting color. The result is ultra-hydrated, soft, shiny hair with vibrant color tones.  
Leave-in Conditioner Flower Fragrance 
Strengthens, hydrates, and conditions normal to dry hair

 

Aids in detangling

 

Seductive, subtle floral fragrance

 

Soy Proteins 

 

Moringa extract

 

Hyaluronic Acid

 

Integrity 41® complex

 

 
Leave-in Conditioner Original Formula 
Strengthens, hydrates, and conditions normal to dry hair

 

Aids in detangling

 

Sweet, warm vanilla scent

 

Milk Proteins

 

Honey extracts

 

Fruit extracts

 

Integrity 41® complex

 
Which delightful leave-in conditioning experience would you choose? Shop Here >>