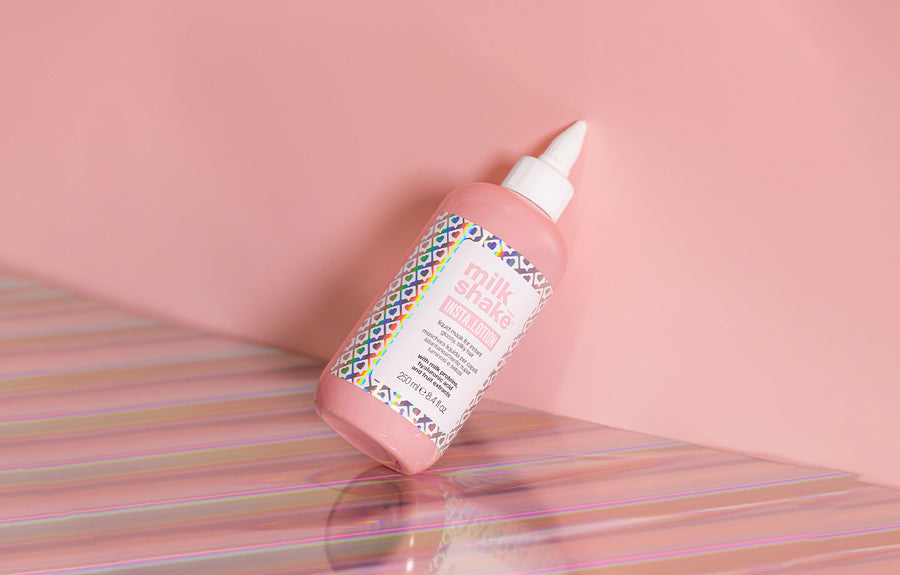 everything you need to know about our new liquid hair mask
There's never been a product quite like insta.lotion. This incredible hair mask is super easy to use and delivers multiple benefits— just about instantly. It's not quite a treatment, not quite a conditioner and that can cause some confusion. Here are the most asked questions about insta.lotion. 
Q: What is insta.lotion? 
A: Insta Lotion is liquid hair mask that gives incredible mirror-like shine—instantly. 
Q: What does it do? 
A: Insta Lotion detangles, hydrates, gives instant shine and removes frizz from hair. It prolongs color vibrancy up to 60% more than other conditioners & shortens drying time. 
Q: Is it a treatment? 
No, Insta Lotion is used after shampooing, in place of a conditioner. 
Q: How do I use insta.lotion? 
A: Apply to damp hair after cleansing, concentrating on lengths and ends and twisting the hair around the fingers to help the product penetrate deeper. Leave in for a few seconds and rinse out. 
Q: Is there a corresponding shampoo? 
A: No, insta.lotion can be used with any of your favorite milk_shake shampoos. 
Q: Who is it best for? 
A: Insta.lotion is perfect for color-treated hair, and those who frequently blow out their hair smooth.   
Q: When should I use insta.lotion? 
A: You can use insta.lotion in the shower right after you shampoo, in place of a conditioner.  
Q: What is it like to use? 
A: Insta Lotion is a liquid hair mask, with a feel that is as light as water. It rinses out almost instantly and smells like peach bellinis! 
Q: Does it have any beneficial ingredients? 
A: Yes! Hyaluronic Acid for softness, lemon & blueberry extracts for shine and of course...milk proteins for strength! 
Q: How long do the effects last? 
A: The active ingredients in insta.lotion will continue to benefit hair health for as long as you use it. However, the shine and frizz reduction effects last through the next shampoo. 
Ready to give insta.lotion a try? Find your nearest milk_shake salon>>>