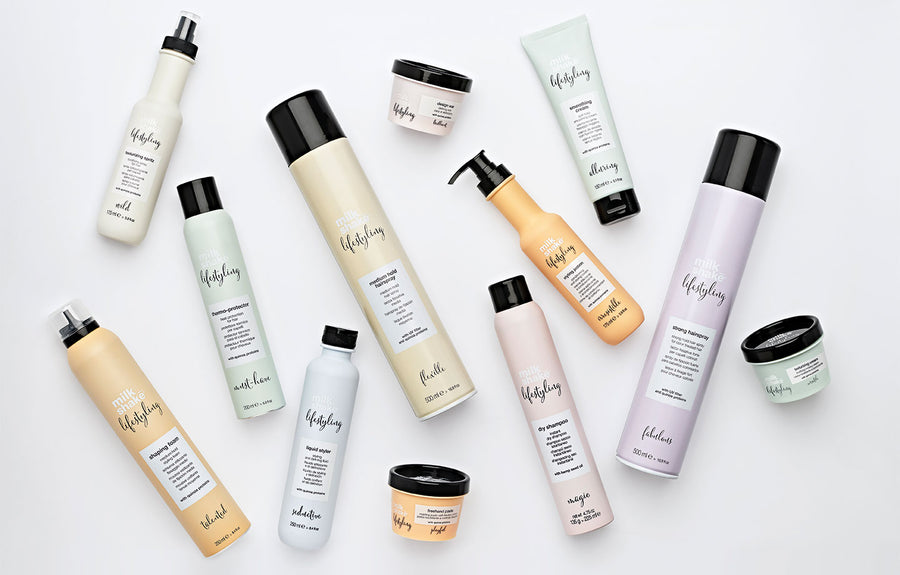 New milk_shake Lifestyling products
The
Lifestyling line from milk_shake
is getting three new additions this January:
Curl Perfectionist, Strong Eco Hairspray and Let It Shine
. The line is designed to work with any style you're trying to create, with the goal of defining, holding and transforming hair in just a few steps. The styling product range was created to help both hairstylist and client needs.
New products:
Curl Perfectionist:Designed to define and tame curls, banish frizz and intensify natural texture.
Strong Eco Hairspray: Featuring extra-strong hold, this spray is designed to give hair shine and a strong hold. It also is made to protect hair from humidity and from external aggressors.
Let it Shine: This super fine mist leaves hair soft and shiny without added weight. It also helps to keep static in check and has a thermo-protective action.

The products in the existing line include:
Smoothing Cream: A styling cream formulated to smooth the cuticle, protect hair during blowdrying and give natural support. It also helps to keep hair smoother longer and counteracts frizz.
Shaping Foam: Creates volume and shape while also protecting hair during blowdrying.
Liquid Styler: A versatile styling fluid, this product is designed to create definition and a soft, flexible hold. It leaves hair full and soft and can be used on dry or wet hair.
Texturizing Spritz: This spray features a bodifying formula with a matte finish to give hold and create beachy waves. It also contains ingredients designed to protect hair from fading and dehydration.
Styling Potion: Gives light support for a conditioning effect that smooths the cuticle of the hair.
Thermo-Protector: This ultra-fine formula was created to protect hair fibers from heat styling. It creates an invisible film over the hair to prevent split ends, breakage and damage while reducing drying time.
Dry Shampoo: The spray refreshes the scalp without using water. It is designed to have no residue and reduce shine at the roots.
Strong Hairspray: Formulated to give structure, hold and to maintain styling without compromising natural movement, this strong hold hairspray leaves hair voluminous and shine.
Medium Hold Hairspray: In addition to providing hold, this spray contains a UV filter and quinoa proteins to protect hair and prevent color fading.
Texturizing Cream: Designed particularly for fine hair, this cream gives dry hair body, separation and control.
Design Wax: This water-based formula has a light modeling effect that gives a touch of shine and flexible definition.
Freehand Paste: This paste has an elastic and stretchy texture to manipulate the hair and define it.
Eco-friendly packaging
The aluminum and tinplate of the cans from the lifestyling range are permanently available resources: they can be recycled easily and indefinitely without losing their intrinsic qualities. The shampoo bottles are made of 50% recycled plastic and, along with the tubes, contain a special additive that makes the packaging completely biodegradable (conforming with CE 94/62 EU regulations in reference to Aerobic Biodegradation). The PP caps, tops and dispensers in the lifestyling range, if collected and recycled, can become new products, favouring the advancement of a dynamic and environmentally conscious society. Every day, z.one conceptTM makes its contribution to respecting the environment. The electricity used by the company is from renewable resources that can be regenerated, and are therefore unlimited.