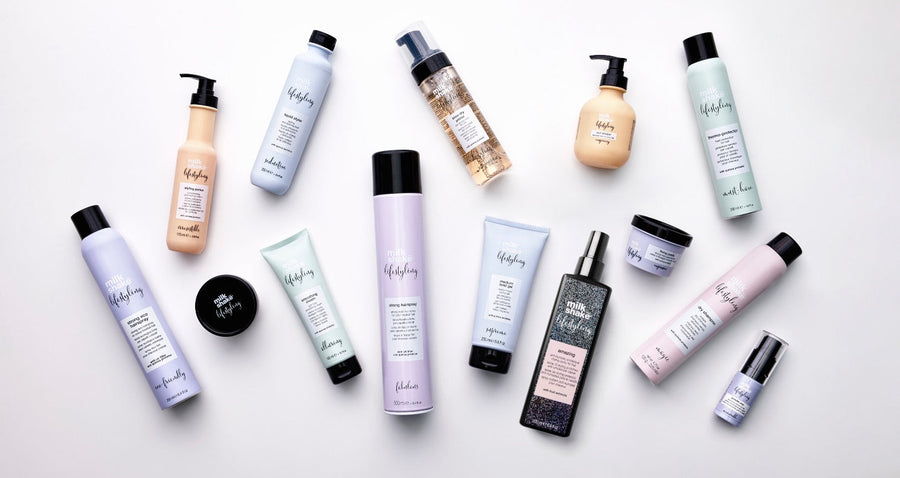 These are the Products you Need to Style your Hair in 5 Minutes or Less
It goes without out saying that given a choice, most of us would rather have a good hair day versus the alternative. However, the lengths that we are willing to go through in order to have said good hair day can vary by person, mood, and circumstances. Sometimes, even though we want our hair to look good, we simply don't have the time or energy to make it happen. If you are the kind of person for whom styling your hair doesn't often crack the top ten on your priorities list, this post is for you. Everyone deserves healthy, beautiful hair and it doesn't have to take a lot to get it. While you could consult our complete list of styling products to get the full rundown, here we stick to the absolutely bare minimum must-haves for each of the basic hair types. 
/ If Your Hair is Fine/Thin
No matter what type of hair you have, the foundation starts with the proper care routine. This is especially important when it comes to fine and/or thin hair. The right shampoo, conditioner and care routine can plump up fine strands, making them much easier to style. That being said, there are a few secret styling weapons that you can keep in your arsenal, to give your hair a lot of extra oomph in a small amount of time. Starting with Lifestyling Blow Dry Primer—a lightweight styling foam that is applied to damp hair. This primer does more than just plump up thinner strands, it also protects hair from heat damage and gives your style extra body. If you need an extra, extra boost (or maybe you were hoping to skip the blow-drying step and let the air handle that part????) try the Shaping Foam. It has a lot of the same protective ingredients as the Blow Dry Primer, but with a slightly thicker consistency and a stronger level of hold. Simply shake well, apply to your damp hair and either blow-dry with a round brush, finger style with a diffuser, or just give your hair a couple of good up-side down shakes and let the air handle the rest. Once your hair is dry, a few shakes of Powder Pop at the roots can take a ponytail (or really any style for that matter) to the next level. 
/ If Your Hair is Normal/Thick
First of all, make sure that you are employing a care routine that leaves your hair properly moisturized, that will go a long way towards managing frizz and maintaining shine. If you typically blow-dry your hair, we are about to make your life a whole lot easier. Before you start in with the dryer and brush, spray your hair down with Lifestyling Amazing, and comb through to distribute it evenly. Not only will your finished style be frizz-free and ultra-shiny, you won't have to do it again for 2 more shampoos. That's right, you read that correctly. You will have to style your hair less when you use this product. It's pretty, well, amazing. After applying Amazing you can follow up with a small amount of styling potion or smoothing cream, depending on how dry your hair is (creams are generally better for more thirsty hair). Both of these products will also help to smooth the cuticle and help maintain your hair's natural body. If you prefer to air-dry, no worries. You can skip the first step and go straight to either styling potion or, if your hair has some natural bed to it, you can add in a little Texturizing Spritz and/or cream. In general, you'll want to apply the spritz to damp hair and rake or scrunch with your fingers. For added definition and texture, follow up with the Texturizing Cream once your hair is dry. Regardless of your drying habits, you will want to be sure to have a can of Dry Shampoo on hand at all times. Those of us with thick hair know that all drying takes a long time, so the less we have to get our hair wet, the less time we have to spend drying it. Using a few sprays of dry shampoo between wash days helps to soak up oils, and adds a little volume and texture along the way. 
/ If Your Hair is Naturally Curly
If you live with curly hair you already know the importance of a good care routine. Balancing moisture and
protein levels
are absolutely crucial to keeping curls healthy and happy. There is usually a little bit of extra prep that goes into styling naturally curly hair, even for the low-maintenance types. Using a shampoo and conditioner specifically formulated for curly hair— like
Curl Passion
—gives curls a little extra moisture. From there, you can add in even more moisture and guarantee yourself some additional shine once dry, by adding milk_shake glistening serum or argan oil for added moisture. If you are looking for added shine, a spritz or two of
Let it Shine
will do the trick. Lastly, a little curl-enhancement can go a long way. Depending on your desired end result, apply either
Curl Shaper Fluid
or
Curl Perfectionist Cream
. Curl shaper provides more definition while the perfectionist is more suitable for softer waves and loose curl patterns. Both of these products provide serious frizz-control and enhance natural textures. Regardless of how much time you have on a daily basis or what your skill level is, using a few key products designed for your hair can make styling infinitely easier. Here's to having more good hair days with less time and effort.