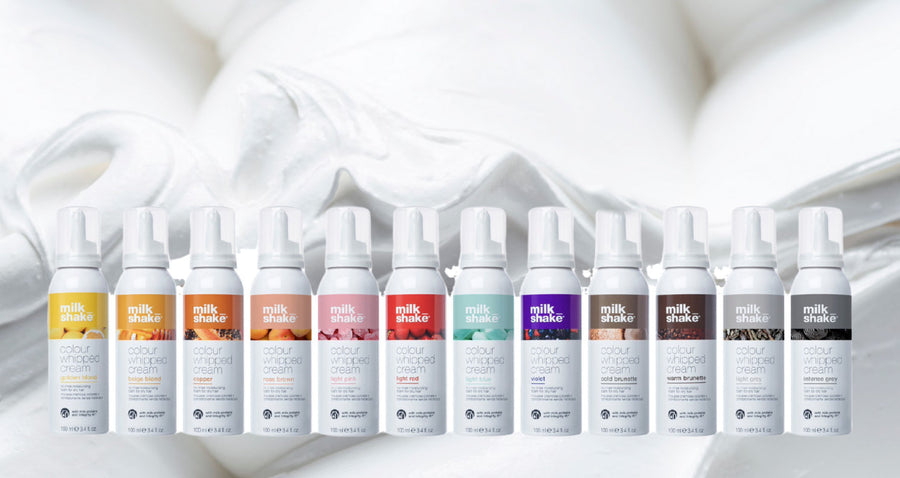 Temporary Hair Color That's Actually Good For You
Let's just face it, at-home hair color is terrifying. Choosing the right shade induces enough anxiety on its own without before you even begin to worry about the potential for damage or what "6N" even means. How do you know that you're choosing the right one? The fact is, you probably don't. Creating the perfect custom color is more than squirting a few tubes into a bowl and making sure you get it all over.
Crafting an individual formulation that highlights and accentuates the wearer's natural beauty is an incredibly precise, technical blend of art and science. Put another way, chemical hair color is something best left in the hands of skilled professionals, well-trained in the art of lift levels and tonal variations.
That being said, we can't all get to our colorist as often as we'd like. From time to time, we may be a little tempted to touch up at home, or even try something completely different for a day or two. Enter, milk_shake Colour Whipped Cream. These tiny temporary color powerhouses enhance tones in wide range of hair colors without any big commitments or possible damage. As a matter of fact, these lighter-than-air leave-ins deliver mega-hydration and serious shine in addition to a jolt of color.
From the brightest of blondes, to the darkest brunette, the original lineup of milk_shake colour whipped cream has a little something for everyone. Recently, we introduced all-new pastel and grey shades as a way to sneak in a little more fun in between salon appointments and provide you with a low-key way to "try-on" a new look. Below, we will answer some questions you may have about this highly unique product including what it is, how it will look on your hair, and how to use it effectively.
What Kind of Hair Dye Is This?
Milk_shake colour whipped creams are a temporary hair dye that come ready-mixed into a decadent, moisturizing foam. Depending on your starting hair color, each of the twelve shades will have a different end result. No matter which color you choose, your hair will look and feel healthier and more hydrated after you apply. How long the results last will depending on your hair's starting color and porosity, but the typical lifespan is 1-2 shampoos.
How Will They Look?
The most dramatic results will be seen on Those with platinum to very light blonde as either a starting all over color or highlights. Here, we will cover the expected results (when used on very light hair) starting with the five latest additions to the colour whipped cream family:
/light pink: a sweet pastel rose color
/light blue: a soft teal reminiscent of a certain iconic box that typically contains expensive jewelry.
/rose brown: a bronzed pinkish tone
/light grey: a true metallic steel ash grey tone.*
/intense grey: a dark metallic, medium ash, cool grey*
*Looking to add a little extra drama to your "wisdom highlights"? Naturally light grey and white hair will see a shiny metallic effect with both the /light grey and /intense grey colour whipped creams.
If you have very light hair but aren't quite ready to hop on the pastel or metallic hair bandwagon, there are a few more natural looking options to enhance your current color.
For Light Blonde-Very Light Blonde/Platinum
/beige blond: a cool, neutral blonde tone.
/golden blonde: a warm, buttery blonde
Those of us without the lightest of tresses can still enjoy a subtle transformation of our very own. Colour whipped creams can be used to refresh colour between salon visits and even impart some subtle tonal effects.
For Light-Dark Brown & Dark-Medium or Strawberry Blonde
/copper: a bright reddish-brown shade with hints of chestnut
/light red: a versatile red that works to enhance natural and previously colored tones
/cold brunette: a cool neutral brown shade.
/warm brunette: a warm brown with hints of rich chocolate.
For Medium Brown- Dark Blonde
/violet: a dynamic color with deep purple tones.
How Do I Use Them?
Step 1. Start with clean, towel-dried hair. Shake the can vigorously and flip it over.
Step 2. With the nozzle pointing straight down, press down on the button (exactly as if you were topping your favorite dessert) and dispense straight into your hands.
*NOTE: Protective gloves should be worn to prevent staining.
Step 3. Apply the colour whipped cream directly to the desired section of hair, making sure cover evenly.
Step 4. When you've covered the desired sections, simply style, blow-dry and go! Your colour whipped cream color will typically last through your next one to two shampoos.
Ready to give them a try?
SHOP HERE