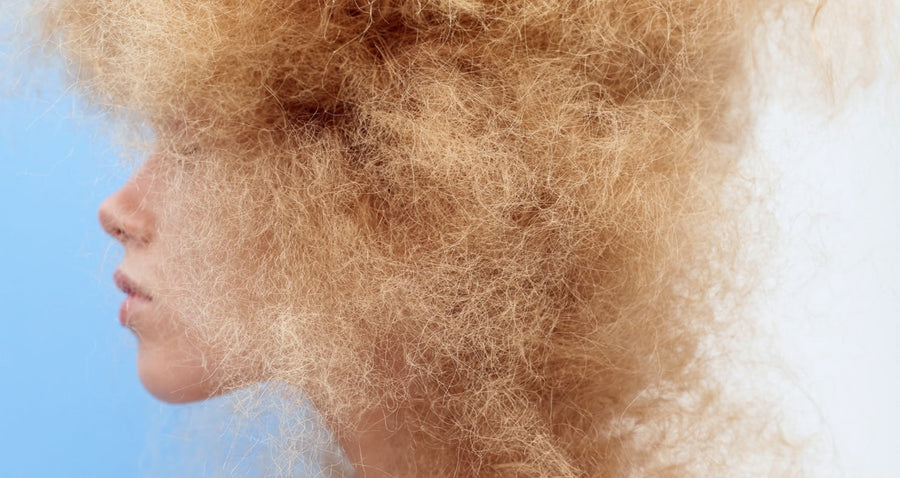 Top Tips and Products for Fighting Frizz
If there is one issue that we can all come together on it's that frizzy hair is a pain. For some of us, the struggle is most noticeable in the summer months, when the temps are high and the air is full of moisture. For others, no matter what the time of year, the fighting the good fight  against a halo of rebellious hairs occupies the majority of our styling routine.
The good news is, we need not fall victim to frizzy hair—we have choices. Whether you are looking to fight it, fix it, or minimize it to the point where it can be incorporated into your everyday styling (yes, that is also an option!) there are ways to live in harmony with frizz-prone hair.
 The Dryness-Frizz Connection
The main cause of frizzy hair is a lack of moisture. This could be genetic, as some of us are simply born with hair that is less prone to moisture retention than others. Otherwise dry hair can come from chemical processes like frequent coloring, perms, or chemical relaxers. Even if you are not using chemical processes frequently, dryness can creep in as a result of styling practices, products, and even the climate in which you live.
The part of hair that we see is the outer sheath or cuticle. While it may look like one smooth strand, your hairs' cuticle is actually made up of tiny shingles. When it is very dry or damaged, those shingles lift up to attract the moisture from the air, which rehydrates the hair shaft. This system is great and it works wonders at balancing hydration…it just also results in frizz.
Products to Prevent  & Control Frizz
Prevention is key, when it comes to minimizing fries. Since we know that frizz is caused by a lack of moisture in the hair, it is important to know your hair type and texture, in order to better assess its needs. Build a great foundation for prevention by starting with the right shampoo and conditioner for your hair type. After the shower, leave-ins, oils, and creams—or the "L.O.C." method— are your secret weapons in the fight against frizz.
milk_shake product Rx
K Respect Smoothing Shampoo & Condtioner
Integrity Nourishing Shampoo & Conditioner
Curl Passion Shampoo & Conditioner
Leave In Conditioners
Applying a leave-in conditioner after showering is another key step in frizz prevention. A great in-shower conditioner infuses moisture into your hair immediately, but the right leave-in will help keep your hair moisturized throughout the day. While milk_shake's best selling leave-in conditioner is a favorite for all hair types, whipped cream pulls double duty by infusing extra hydration and a boost in volume for styling.
milk_shake product Rx: milk_shake leave-in, milk_shake whipped cream, milk_shake incredible milk, curl passion leave-in
Hair Oils
Choosing the right oil can be intimidating. Too heavy and it will weigh your hair down, causing a limp, greasy look. To light and you won't get the moisture that your hair needs. Finding an oil that fits your hair type and texture is key and it's always good to look for one that offers multiple benefits, like milk_shake integrity incredible oil. In additional to nourishing your hair, it also enhances your color, repairs split ends, and tames frizz by sealing the cuticle.
Brushing, Drying, and Frizz
Using the right products and routine to improve and maintain the health of your hair is the right place to start. However, there are also a few adjustments that you can make to the way you handle your hair, to combat frizz. First, let's talk about how you're brushing.
While regular brushing does help distribute the natural oils from your scalp to coat the hair shaft, over brushing is a thing. And that thing, can lead to breakage and 'roughing' of the cuticle. Despite what you may have heard, you do not need 100 brush strokes per day, to achieve optimal oil distribution.
In general, if you have straight har, gently brushing through your hair once per day should do the trick. If you have curly hair, comb through when wet to remove tangles, but leave the brush alone. Curly hair tends to be drier and more fragile than straight and more prone to damage.
In terms of drying, there are two main culprits contributing to your frizz: your towel and your blow dryer. When you step out of the shower, your hair is at it's most vulnerable state. Scrunching or roughly rubbing wet hair with a towel can lead to damage of the cuticle and possibly even breakage. Consider investing in a microfiber towel  and gently blotting your hair to soak up excess moisture, if you want reduce the potential for frizz.
If you have the time, let your hair air dry about 75% of the way, before styling. Hot tools are hard on your hair and your dryer is no exception. You don't have to ditch your dryer completely, just try to minimize the amount of time you spend drying and be sure to use the cool setting. Keep the nozzle 6 inches or more away from your hair and you decrease your risks of frizz causing damage.
Using the right products for your hair type and making a few tweaks to how you handle your hair will go a long way to reducing frizz. Combine all of this with frequent visits to your stylist for trims (split ends are a leading contributor to frizz!) and your hair will be healthier and less prone to frizz.