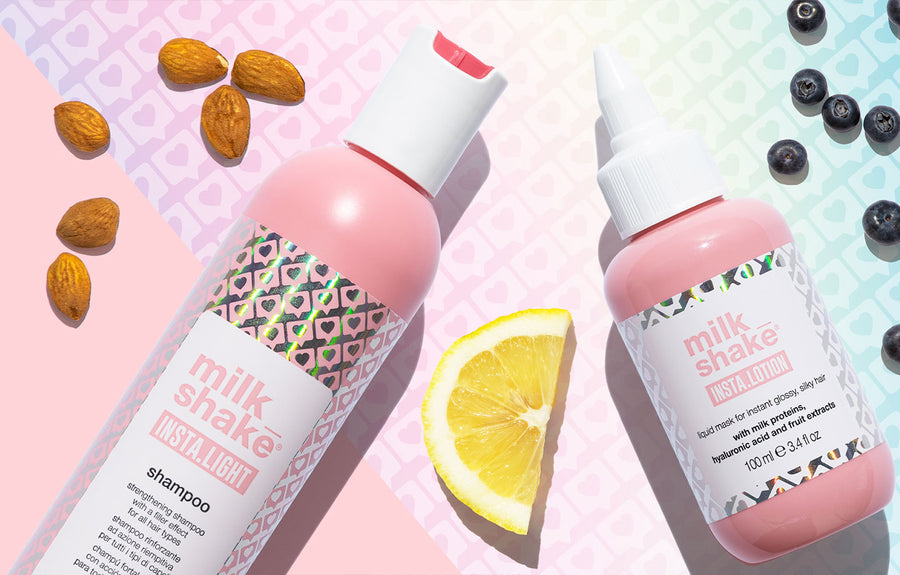 How to get (& keep!) glass hair
Have you seen the "glass hair" trend? It's become pretty popular in the celebrity/influencer sphere recently. As the name implies, this trend means that your hair looks perfectly smooth, straight and so shiny you could almost see your reflection in it.  
Sounds like a lot of work, doesn't it? 
The good news is that it doesn't have to be. We've created both an in-salon service and at home care routine to help you get—and keep!—glass hair with as little effort as possible. 
In-salon glass hair treatment 
milk_shake insta.light is a 4-step professional salon service that delivers ultra smooth, incredibly shiny, fuller looking hair in less than 1 hour. The effects of this service last up to 3 washes, meaning that depending on how often you wash your hair, a single insta.light service can last you up to a week (or more!) 
The treatment consists of a relaxing wash with insta.light shampoo, followed by application of the insta.lotion liquid hair mask. After rinsing, your stylist will take you to their styling station, where they will apply insta.potion, before drying.  
After a blowdry, your stylist will coat your hair with thermo-protector spray and use their flat iron to seal in the products and create a smooth, reflective surface.  
Glass hair care at home 
After receiving your insta.light treatment, you can take home a bottle of insta.light shampoo and insta.lotion liquid hair mask to use at home. Using these products at home, in place of your normal shampoo and conditioner will help to prolong the effects of the treatment even longer.  
There is literally no easier way to get—and keep! —glass hair.  
Want to learn more about insta.lotion or the insta.light service? Check it out here >>>