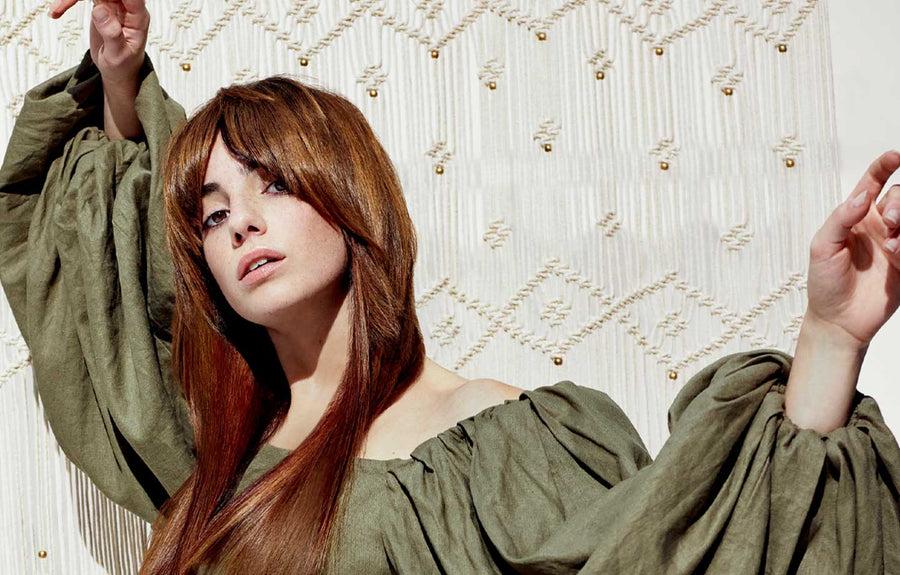 the best haircare routine for frizzy color-treated hair
It's no secret that dry hair leads to frizz. But did you also know that color-treated hair tends to be drier than non-color-treated hair? And if that color happens to be lighter than your natural shade, it's likely that you struggle with even more dryness and frizz. With the right haircare routine, it is possible to combat frizz while maintaining vibrant, long-lasting color. The secret? Consistency and the right combination of products for your unique hair type, styling routine, and color. 
In the shower 
Good haircare starts in the shower. It can be difficult to find a high-quality shampoo and conditioner that addresses all of your haircare needs. This is because professional and high-quality products use highly specialized ingredients in order to target and treat specific hair concerns. The secret is to develop a haircare routine that includes multiple product families. This gives you multiple benefits, delivered in a customized routine that works for your hair. 
The best shampoo and conditioner for color-treated frizzy hair includes both a targeted color maintainer and a specialized frizz-tamer. You can adjust the frequencies of how often you use each, depending on your hair color and your level of dryness/damage.  
The very best shampoo and conditioner to maintain hair health and combat frizz is milk_shake integrity shampoo & conditioner. Integrity Nourishing products use organic muru muru butter to deeply nourish hair and eliminate frizz for all hair types. milk_shake integrity intensive treatment seals the hair cuticle and provides detangling, softness and shine while also preserving hair color. 
Fine & Medium Hair: Integrity Nourishing Shampoo & Integrity Nourishing Conditioner 
Medium to Coarse Hair: Integrity Nourishing Shampoo & Integrity Intensive Treatment 
To maintain color vibrancy 
For warm toned brunettes and redheads: 
For cool toned brunettes: 
For platinum blond light/very light blondes, for natural grey or white hair:  
For ash blond, gray metallic & silver tones: 
Pre styling 
Think of the following products as a "base layer" to your style. No matter how you wear your hair, these pre-stylers work around the clock to tame frizz and provide softness and shine. While these products are designed to be versatile enough to work with all hair types, we've indicated which are the best fit for specific hair types below. 
Incredible Milk is like a Swiss Army knife for your hair. With 12 incredible benefits, this one product controls frizz, adds shine, increases manageability, and can practically file your taxes.  
Glistening Milk works best for fine hair, to combat frizz, increase shine without weighing hair down. 
Glistening Serum is ideal for medium to coarse hair, to not only tame frizz but also to add shine.  
K-respect Maintainer Mist is our resident heavy hitter. This powerful keratin-based spray treatment is ideal for medium to coarse hair. 
The best styling products for color-treated frizzy hair 
No matter what your styling routine, choosing products designed to support the health of your hair can only improve your overall look. That being said, certain products are better suited to air-drying than others while some formulations are only activated by heat.  
If air drying: 
Lifestyling Smoothing Cream is an all-purpose frizz-fighting machine that adds softness and manageability to all hair types.  
Lifestyling Medium Hold Gel gives body and definition to curls while adding shine and smoothing frizz.  
Lifestyling Curl Perfectionist cream provides long lasting curl definition while fighting frizz 
Lifestyling Curl Shaper is perfect for encouraging soft, frizz-free waves.  
If heat styling:
Lifestyling Amazing is a lightweight spray designed to extend the life of your frizz-free blowout for up to two washes.  
Lifestyling Amazing Curls & Waves works to keep curly styles protected and free of frizz. 
Lifestyling Thermo-Protector is a necessity for keeping hair protected from the damaging effects of heat styling. This damage can lead to increased frizz.  
 
Are you ready to create your custom haircare routine? Shop NOW >>